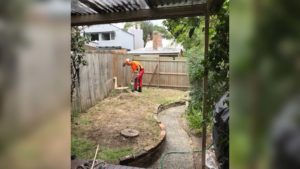 When you live in an inner Sydney neighbourhood such as Enmore, being surrounded by greenery is important, not only as greenery produces oxygen for all air-breathing life but for privacy and because it is beautiful to look out on.
Unfortunately, sometimes, there is a downside to being surrounded by greenery, which is what residents in Enmore happened to find after a storm brought down a major limb of a large Celtis tree. As the Celtis tree is considered a noxious week, the residents did not require council approval for us to come in and remove the limb.
This was a particularly challenging job as the property was a townhouse with no outside access. The canopy was overhanging 4 of the properties and posed a danger to both the residents and the properties.
This job required a lot of rigging, and the tree had to be cut into small pieces to be able to be carried through the house to the street where it was processed through the trucks chipper.
Fortunately, it is these types of jobs we excel at; at Wolf Trees and Gardens we service all types of jobs and taking care of your property is of the utmost importance to us, we even clean up after ourselves at no extra cost.
If you are looking for affordable and professional tree cutting and removal service, call and speak to Jonnie.