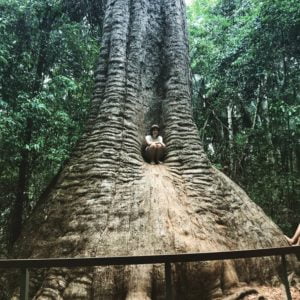 Jonnie took the Wolf Pack to see 'Old BottleButt' near Port Macquarie – she's a beauty, 16-meter circumference at the base, that would be a heck of a stump grinding job!!
Located in Burrawan State Forest, "Old Bottlebutt" as it is commonly known, is an ancient Red Bloodwood tree. Over 200 years the tree has developed a massive girth of more than 16 metres at its base, which has given it a unique shape and rather cheeky name.
While "Old Bottlebutt" is the main attraction, the Burrawan State forest has a picnic area and a 600-metre loop walking track, so is a lovely place to visit and a beautiful place for a picnic not far from town.
No trees were harmed during this visit.