Call Jonnie today for an affordable & professional tree service
If you're looking for tree removal in Marrickville, and you want professional, quality, friendly and knowledgeable service, you're in the right place!
Wolf Trees & Gardens has been helping home and property owners in Marrickville to remove and trim problem trees, stumps and more for a long time. We offer competitive pricing, expert assessments, and safe and thorough service.
So, whether you just want to cut back one tree or you need to remove many, we've got the tree removal services you need in Marrickville!
Speak to me, Jonnie, and I'll be there in 48 hours. All quotes are free.
Need a Tree Removal/Pruning Permit? Get a FREE Quote Now!
Inner West Council requires you to get a permit for pruning and removing trees on private land. To secure your permit, you need to submit a quote from a qualified arborist. At Wolf Trees and Gardens, we offer FREE quotes to assist with your permit applications.
For more details and to access the Inner West Council Application to Prune/Remove Trees, visit Inner West Council Application.
18 meter Eucalyptus Tree gone in 9 secs
Services
There are many reasons why our customers are looking for tree removal in Marrickville or need tree pruning and stump removal services.
Sometimes, their trees have become diseased or died, and are potentially dangerous. Other times, they simply want to change the look and layout of their garden, and they need to remove a tree or two to do that.
Whatever the reason you're looking for expert tree services in Marrickville, you'll find them all (and more!) at Wolf Trees & Gardens.
Tree Pruning
Tree pruning in Marrickville is a lot more than just taking a saw or shears and cutting off random branches. It takes skill and experience to identify the best branches, and those that need to go to improve the health of your tree.
Even when you need to prune your trees for practical reasons, like keeping leaves out of your pool, it still needs to be done with great care, so you aren't left with trees that are unhealthy and don't look great.
Wolf Trees & Gardens offers expert tree pruning services that is fast and friendly and leaves your trees healthier and ready to grow!
Tree removal
Trees are a great addition to any garden, but sometimes, they become a problem rather than an asset.
Sometimes, trees get diseases or insect infestations that are hard to treat. They may even die from these kinds of diseases, and that makes them a safety risk. Eventually, dead trees will fall over, and that's bad news for the people and property around them!
Our customers don't only come to us for tree removal in Marrickville because of disease though.
Sometimes, they're planning to redevelop their backyard space, and they need to remove trees to do that. Or maybe their trees are interfering with powerlines or plumbing.
Whatever the reason you need trees gone, Wolf Trees & Gardens offers professional, safe, and competitively priced tree removal services.
Stump grinding
If you've ever had a stump in the middle of your lawn, you know just how much of a problem it can cause.
Mowing your lawn becomes a lot more complicated, and if you don't do extra trimming around the stump, you'll always have longer grass in that one spot.
Stumps also make it harder to walk around your garden, and they definitely interfere with a friendly game of tag!
Tree stumps often rot after they're cut down too, and that can result in insect nests and other problems.
The simple fact is that most people would rather not have tree stumps – and that's why Wolf Trees & Gardens offers a fast, friendly, and professional stump removal and stump grinding service in Marrickville.
Our team will remove the stump, feed it through our commercial grade woodchipper, remove the chips and clean up the area where the stump used to be. So, it's ready for whatever you're going to replace the problem stump with.
Stump grinding is not something that's suitable for DIY though, and the machines and tools used for this process can be dangerous if not used correctly. So, make sure you call a professional to remove and grind your tree stumps!
Call Jonnie for a Free Quote Now!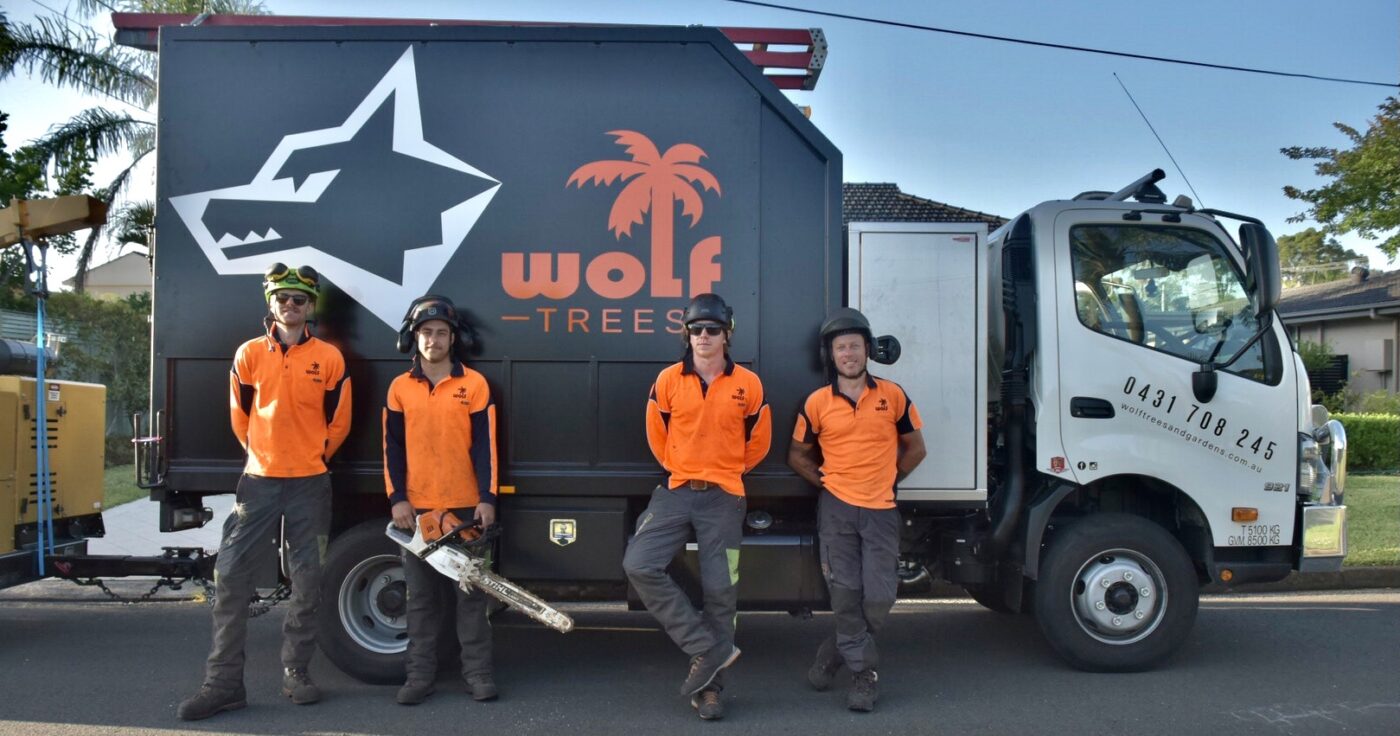 Next steps
1
Check with local council if permit is required
2
Call and ask Jonnie for a quote
3
You will receive a text message confirming a site visit to inspect
4
A formal quote to follow straight away with a copy of our qualifications and Insurances
5
Arrange a convenient time to book job in
6
You will receive text message the day before to confirming arrival time
7
Once Job is complete a thorough clean up is done, leaving the property clean
8
We will then walk you through what work has been done
9
Invoice will be sent, and payment can be made by internet transfer, credit card or cash
Client Testimonials
Call Jonnie for a Free Quote Now!