Call Jonnie today for an affordable & professional tree service
There are many reasons why you might be looking for tree removal in Kingsgrove. Maybe you want to build something in your backyard, or maybe they're damaging paving or plumbing.
Maybe you don't need to remove a whole tree, but you need to have them cut back for visibility, safety, or just to keep the leaves out of your pool. Whatever the reason you need tree removal in Kingsgrove, Wolf Trees & Gardens can help.
Speak to me, Jonnie, and I'll be there in 48 hours. All quotes are free.
18 meter Eucalyptus Tree gone in 9 secs
Services
Wolf Trees & Gardens offers all the professional removal services you need in Kingsgrove, at very competitive rates.
Professional tree and garden services are important to ensure that you take care of problem trees in your garden safely, and with minimal noise and disruption. Our trained team of specialists always ensure that your tree removal is carefully planned, perfectly executed, and leaves you with the results you need.
Tree Pruning
Trees are a great addition to any garden, but sometimes, they get out of hand. Whether they're blocking the view, obstructing access to certain parts of your property or dropping leaves and debris where you'd prefer, they didn't, tree pruning in Kingsgrove might be the solution you need.
Tree pruning not only solves all of these problems, but it also improves the health of your trees. So, they'll be stronger, better looking, and better able to produce flowers or fruit.
Different types of trees need different types of pruning, at different frequencies. That's why we're always happy to visit your home and view your trees, so we can give you the very best tree pruning advice.
Tree removal
There are many reasons who people need tree removal in Kingsgrove.
Some of our clients at Wolf Trees & Gardens have just moved into a new home, and the trees that came with the house don't work with their plans for the garden.
Others have found that they have problems with tree roots growing into underground pipes, lifting paving, or otherwise damaging their property.
Some just need to remove a tree so that they can build an outdoor entertainment space or patio, or even add an extension to their home.
Tree removal is a complex and sometimes dangerous process that needs to be carefully planned and carried out to ensure there's no danger to you, your family or neighbours, or any property. The last thing you need is a tree falling on a fence, car, or roof!
Whatever the reason you need tree removal in Kingsgrove, you should always enlist the help of a professional tree removal specialist, and Wolf Trees & Gardens can get the job done right, and at a price you can afford.
Stump grinding
Even if someone else removed your tree, there's always a chance that you've been left with an unsightly and inconvenient tree stump.
Stumps make it harder to mow your lawn, they're a tripping hazard, and they make parts of your garden unusable for anything else. There's also no guarantee that the stump might sprout again, and if it does, you might have tree trouble all over again! Not to mention that rotting tree stumps are a home for all kinds of bugs and household pests!
Wolf Trees & Gardens offers professional, fully insured tree stump removal and grinding services in Kingsgrove. Our professional grinding equipment will turn those problem stumps into wood chips faster than you ever thought possible.
We not only remove your troubling tree stumps, but we also take them away, and we'll even clean up the place where the stump used to be, so it's ready for whatever you've got planned for that part of your garden.
Call Jonnie for a Free Quote Now!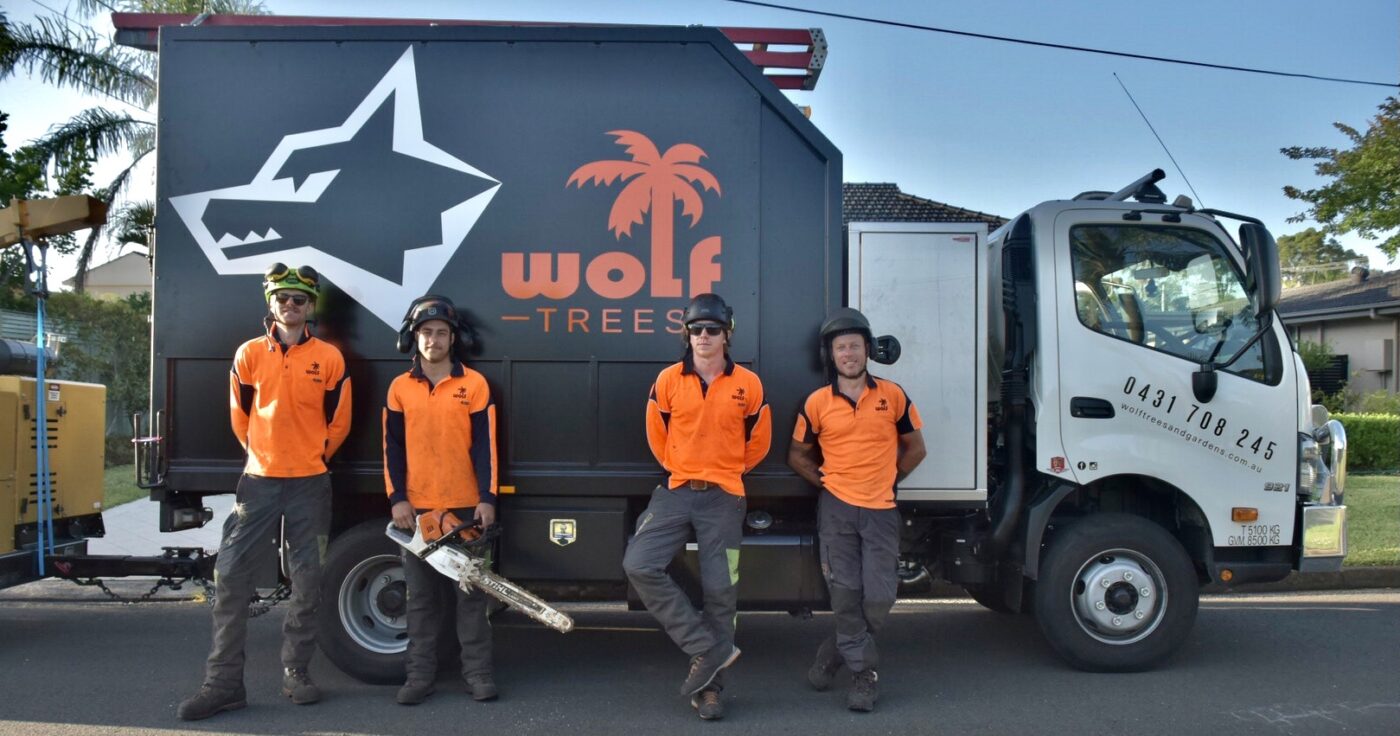 Next steps
1
Check with local council if permit is required
2
Call and ask Jonnie for a quote
3
You will receive a text message confirming a site visit to inspect
4
A formal quote to follow straight away with a copy of our qualifications and Insurances
5
Arrange a convenient time to book job in
6
You will receive text message the day before to confirming arrival time
7
Once Job is complete a thorough clean up is done, leaving the property clean
8
We will then walk you through what work has been done
9
Invoice will be sent, and payment can be made by internet transfer, credit card or cash
Client Testimonials
Call Jonnie for a Free Quote Now!