Call Jonnie today for an affordable & professional tree service
Do you have trees that have become a problem? Are they dying or diseased, do they drop leaves and fruit where you'd prefer they don't? Do you need a tree removed to build a new garage, swimming pool or something else?
Whatever the reason you need tree removal in Coogee, you'll find fast, competitively priced and professional tree removal services at Wolf Trees & Gardens. So, you never have to live with a tree that's become a problem again!
Speak to me, Jonnie, and I'll be there in 48 hours. All quotes are free.
18 meter Eucalyptus Tree gone in 9 secs
Services
We've been in the tree removal business in Coogee for a long time. Our team is made up of tree removal and trimming specialists, and we're fully licensed and insured.
Wolf Trees & Gardens offers the very best possible tree removal services, and we've got many happy customers who can (and have!) confirmed that. Whether you just need one tree removed or trimmed, or you want to transform your whole garden, we're here to help.
Tree Pruning
Many people don't realize that trees and shrubs need to be pruned from time to time to keep them healthy. This is especially true for flowering or fruit trees. Even one damaged or dead branch could seriously impact the health and growing ability of your tree.
That's one of the reasons people contact us for tree pruning in Coogee.
Some of the other reasons our customers contact us to trim their trees in Coogee are for visibility, to neaten them up, or to stop leaves, flowers or fruit dropping in areas of their garden they'd rather they didn't.
Tree removal
Tree removal seems like a simple concept, but the truth is, it's a complex and specialised process.
Removing trees that are causing problems or that are preventing you from developing your property as you would like to is a lot harder than you think it is, and it's definitely something that is best left to the professionals.
Not only are the team at Wolf Trees & Gardens fully trained and equipped with all the tools and safety equipment they need, but we also plan every removal carefully, so it's as safe and hassle free as possible.
We're always happy to visit your home in Coogee to give you the best possible advice about removing problem trees, and our quotes are comprehensive and competitive.
So, as they say in the movies – don't try this yourself! Leave all your tree removal needs to the tree removal specialists at Wolf Trees & Gardens!
Stump grinding
Sometimes, when you have a tree removed, the stump stays behind. This can cause all kinds of problems, from making it hard to mow your lawn to being a dangerous obstacle on your lawn. Whether it's tripping during a game of tag or damaging vehicles and bicycles, tree stumps are not garden friendly!
Rotting tree stumps can also be home to ant colonies or worse, and if your stump is still in good health, there's always a chance that it will sprout again, and you'll be left with another tree removal problem!
Stump removal and stump grinding in Coogee is the solution.
Wolf Trees & Gardens will remove the whole stump and its roots, wherever it may be. We then cut it up and use a woodchipper to turn your problem stump into an easy to remove pile of wood chips. When that's done, we clean up the area, and leave it ready for whatever you want to do with your new, stump free garden!
The great news is that you don't have to live with problem stumps! A professional Coogee stump removal service like Wolf Trees & Gardens solves the problem quickly and easily.
Call Jonnie for a Free Quote Now!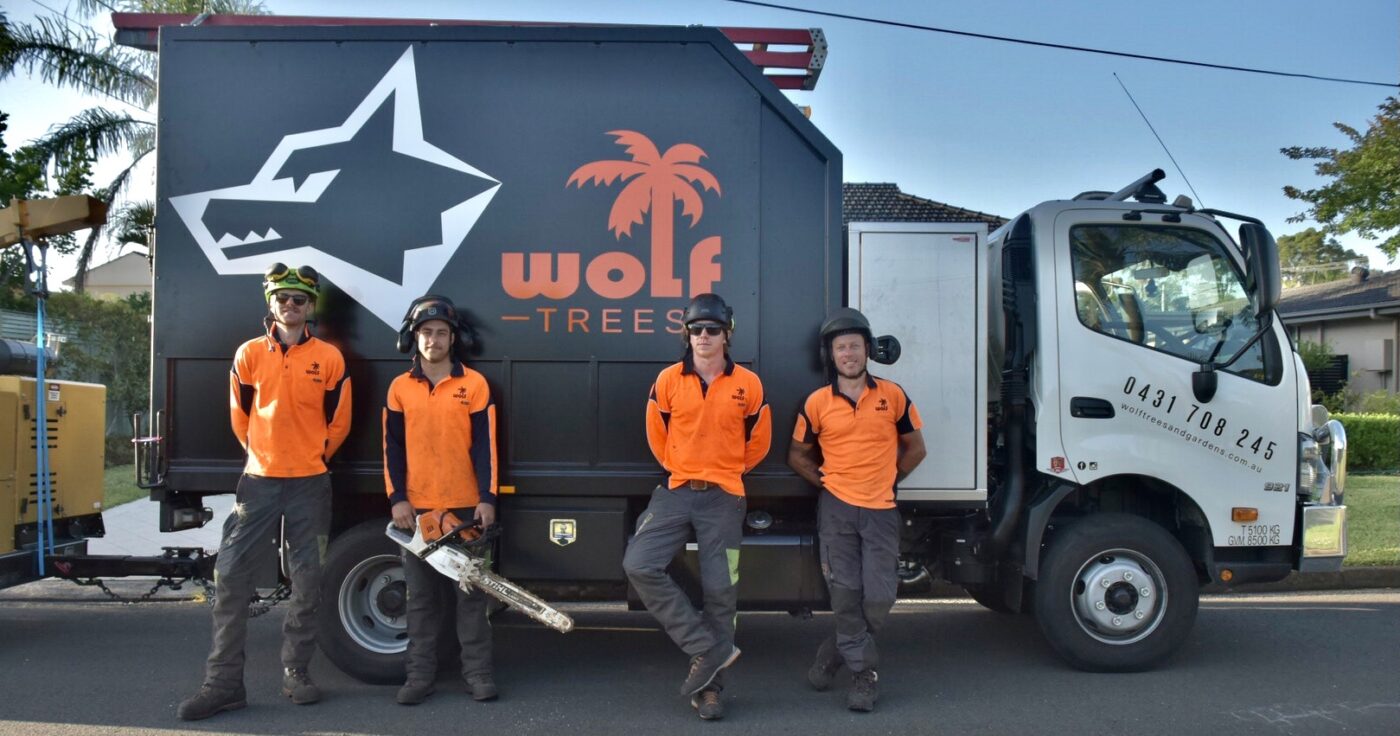 Next steps
1
Check with local council if permit is required
2
Call and ask Jonnie for a quote
3
You will receive a text message confirming a site visit to inspect
4
A formal quote to follow straight away with a copy of our qualifications and Insurances
5
Arrange a convenient time to book job in
6
You will receive text message the day before to confirming arrival time
7
Once Job is complete a thorough clean up is done, leaving the property clean
8
We will then walk you through what work has been done
9
Invoice will be sent, and payment can be made by internet transfer, credit card or cash
Client Testimonials
Call Jonnie for a Free Quote Now!