Call Jonnie today for an affordable & professional tree service
I'm Jonnie, owner of Wolf Trees and Gardens, and I'm also on the spot in the Inner West. Within two business days, I can provide you with a free quote for tree pruning, tree removal, and even removing whole tree stumps. That's the beauty of dealing with a local company – things happen fast!
We work fast too. If you're happy with our quote – and we are very competitive – I'll make sure your tree project is completed quickly, safely and professionally. You'll also have total peace of mind knowing we're qualified tree technicians with full insurance.
At Wolf Trees and Gardens, no job is too big or too small.
Call me, Jonnie today and schedule your fast and free quote!
18 meter Eucalyptus Tree gone in 9 secs
Services
Tree Pruning
Trees with broken or decaying branches can become a safety issue. Sometimes insects infest branches, making them weak and prone to collapse on whatever happens to be underneath. And, of course, trees can simply get overgrown and messy, not to mention become a wall of leaves blocking your lovely view.
At Wolf Trees and Gardens, we're your Inner West tree pruning specialists. We're quick and efficient, and we leave your yard clean and tidy before we leave.
Tree Removal
If you have a damaged or dying tree on your property, look out! Dying trees don't care where they fall, and that could be bad news for your house and cars. Storms, insects and decay can make any tree on your yard unstable, and it's best to remove them fast. The same applies to trees growing far too close to your home.
Wolf Trees and Gardens are your qualified tree removalist experts. We know how to remove dangerous trees quickly and safely, ensuring your yard is free of risk. Best of all, we do such a thorough job – you'll find it hard to believe a tree was ever there!
Stump Grinding
Is that old tree stump in the yard causing you grief? Apart from being an eyesore, tree stumps are immovable obstacles for bicycles and people to crash into. They're also not very lawn mower-friendly and are a pain to work around. On top of that, tree stumps are an ideal environment for insect infestations that can soon become a genuine hazard if they spread into your home.
So how do you remove a huge lump of deadwood from the ground? Well, it pays to get an expert. A professional stump grinder from Wolf Trees and Gardens uses specialised equipment to remove the stump without damaging the surrounding ground.
Call Jonnie for a Free Quote Now!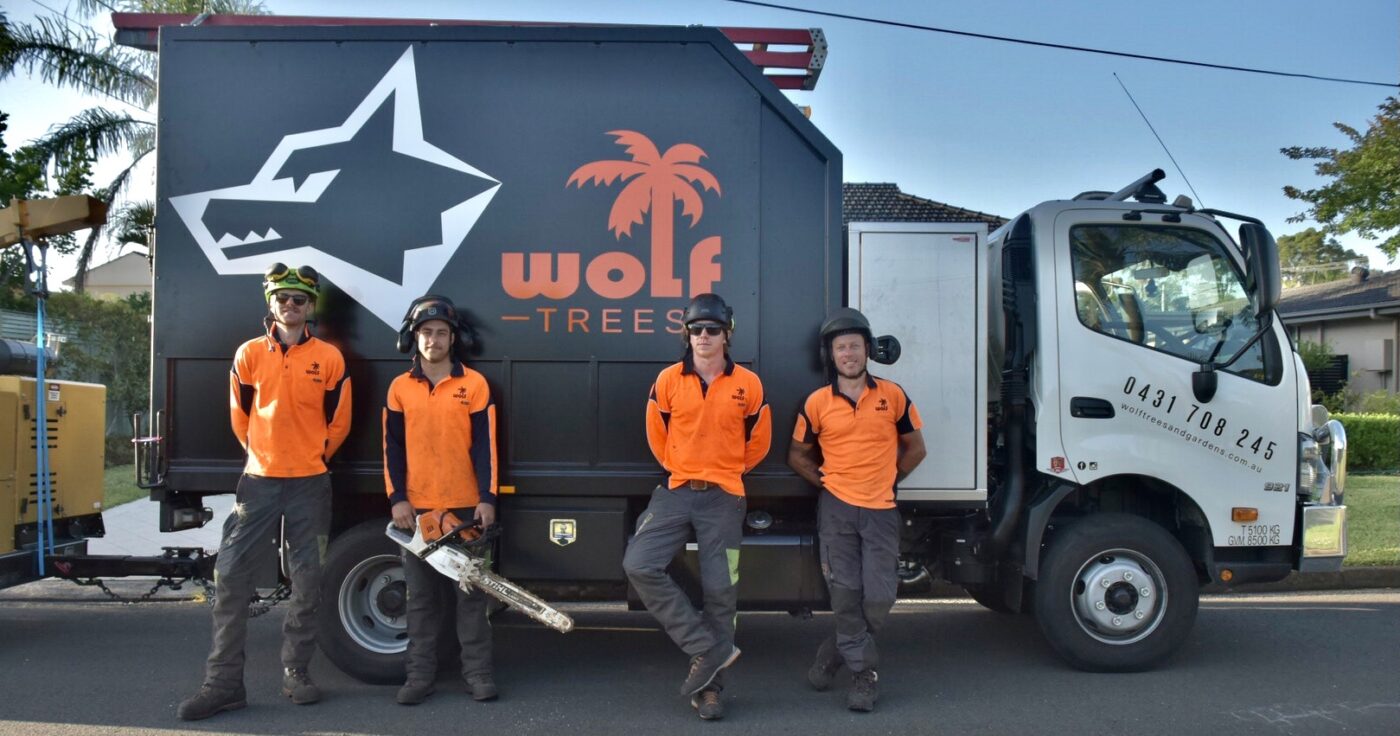 Next steps
1
Check with local council if permit is required
2
Call and ask Jonnie for a quote
3
You will receive a text message confirming a site visit to inspect
4
A formal quote to follow straight away with a copy of our qualifications and Insurances
5
Arrange a convenient time to book job in
6
You will receive text message the day before to confirming arrival time
7
Once Job is complete a thorough clean up is done, leaving the property clean
8
We will then walk you through what work has been done
9
Invoice will be sent, and payment can be made by internet transfer, credit card or cash
Client Testimonial
The most amazing team of guys ever!!!! Punctual, well mannered, fantastic job… The best I have ever had. Most highly recommended.an absolute pleasure to deal with.
– Michelle Baird

When it comes to all your tree pruning and removal services – even hedge trimming – look no further than your friendly local professionals.
With Wolf Trees and Gardens right here in your neighbourhood, there's no need to search the city for professional tree services. We're proud to serve the Inner West with fast and friendly tree services that improve your home and the local streetscapes. In fact, you might say we're beautifying the Inner West one tree at a time.
So if you need trees pruned or have dead or dying trees and stumps that need to be safely removed, we can help. Call me, Jonnie, at Wolf Trees and Gardens, and it will be my pleasure to fix all your tree problems for good.
Call Jonnie for a Free Quote Now!