Call Jonnie today for an affordable & professional tree service
My name is Jonnie, and I'm the proud founder, owner and operator of Wolf Trees & Gardens for the St. George community. We're your local and professional tree removal and cutting company. We've faithfully served the St. George community since 2011, and our customers know they can turn to us for quality services, high value for their money and a fully insured and qualified staff that offer fast and free quotes in as little as two business days!
No job is too difficult for us to handle, and we take immense pride in the fact that we can easily take on projects in townhouses that have difficult access points, projects with small trees, difficult parking and much more. We offer fast and efficient stump grinding, tree pruning and tree removal services that come with complimentary cleanup and recycling of all green waste.
We make a point to care for your property as it if was our own, and I want you to call me, Jonnie, if you have any questions or concerns at any point during the project. We've built a solid reputation as a dependable and reliable company that puts our St. George community first, and we have dozens of loyal customers who return to our company time and time again for our excellent customer service and our stellar reputation. No matter if you need tree removal or tree cutting services, I invite you to contact me and request your fast and free quote right now!
Call me, Jonnie today and schedule your fast and free quote!
18 meter Eucalyptus Tree gone in 9 secs
Services
Our experienced and fully insured staff will work quickly and efficiently while making sure that they complete the job to our high standards.
Tree Pruning
When we work on a tree pruning project, we're removing any dead, decayed or dying branches from an otherwise healthy tree. This helps to minimise the danger they present to anyone around them, and it allows you to enjoy more sunshine around your yard as well as a gorgeous view of St. George district.
At Wolf Trees & Gardens, we come directly to your property to assess any problem trees you may have. We have the experience and tools to quickly and carefully prune away any problem areas so you can get back to enjoying your yard.
Tree Removal
Decaying or damaged trees are so much more than a hassle that can obstruct your views of the beautiful St. George community. They can be a hazard to anyone around them, and you want to take care of them as quickly as possible. Insects can burrow in and damage the tree's stability as well, and we can also remove trees that get in the way of renovations.
We highly recommend hiring a professional and reputable company to remove your trees for you, and this is where we come in at Wolf Trees & Gardens. We'll come straight to your property, take note of your problem trees and give you a fast and free quote within two business days.
Stump Grinding
Although stumps can seem harmless other than being an eyesore, they can create big problems. Not only do they encourage new tree growth, but they also get in the way when you're working on your lawn and attract insects.
We are qualified stump grinders who bring years of experience and high-quality equipment to each stump grinding project we take on, and we encourage you to contact us. We'll come, take a look and give you a quote.
Call Jonnie for a Free Quote Now!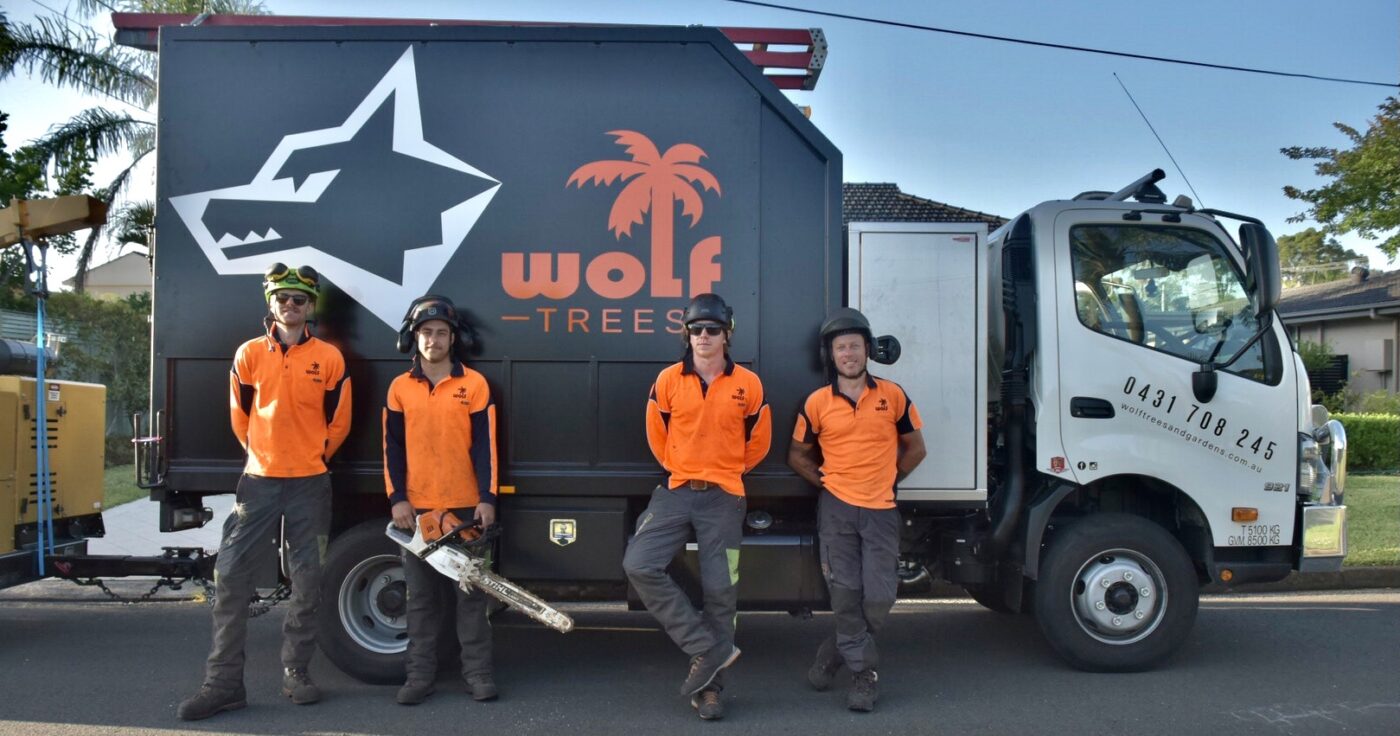 Next steps
1
Check with local council if permit is required
2
Call and ask Jonnie for a quote
3
You will receive a text message confirming a site visit to inspect
4
A formal quote to follow straight away with a copy of our qualifications and Insurances
5
Arrange a convenient time to book job in
6
You will receive text message the day before to confirming arrival time
7
Once Job is complete a thorough clean up is done, leaving the property clean
8
We will then walk you through what work has been done
9
Invoice will be sent, and payment can be made by internet transfer, credit card or cash
Client Testimonial
Professional, reliable service. Jonnie provided a competitive quote and did a thorough job. He and his team arrived at the time booked unlike other businesses we have dealt with. Highly recommend.
– Fleur B

For your own fast and free quote for services in St. George, contact Johnnie at 0431 708 245 today!
Call Jonnie for a Free Quote Now!