Call Jonnie today for an affordable & professional tree service
Hi, my name is Jonnie. I'm a tree removal and tree maintenance expert operating in the Sans Souci area.
Sans Souci means "no worries" in French, and that's just how Sans Souci residents feel when they put their tree removal and maintenance in the hands of my local business, Wolf Trees & Gardens.
Since 2011, we've been cutting and removing trees, providing fast, quality services at very affordable prices.
To get started, simply call us for a quick, free quote (we'll get back to you in the next 48 hours). Every customer who contacts us can take advantage of this offer.
When you use our tree removal and maintenance services, you'll soon see why we have a solid and loyal customer base in Sans Souci. You get high-quality services from our qualified and fully insured team. You also get great value for your dollar.
Wolf Trees & Gardens wants Sans Souci to remain beautiful. That's why we recycle all green waste. We also do a free clean-up when we've finished your tree removal or maintenance job.
No matter how challenging your project is, we can handle it. We tackle all properties, including townhouses with difficult access or complicated parking. We'll also take care of small size trees.
If you need to get your trees under control, contact Wolf Trees & Gardens today. You can speak to me, Jonnie. I'll be 'round to your San Souci property within 2 business days and I'll give you a free quote.
18 meter Eucalyptus Tree gone in 9 secs
Services
If you're searching for affordable tree pruning, tree removal and stump grinding in Sans Souci, you're in the right place!
Tree Pruning
The trees in Sans Souci help create a green, fresh feel. But just like any other place on earth, if trees aren't pruned or trimmed, they cause problems for residents and properties.
Pruning, lopping and trimming trees is hard work. It's best left to experienced professionals like Wolf Trees & Gardens. We'll get rid of dead, drooping and nuisance branches quickly, safely and with "no worries".
When your trees are professionally pruned, your yard is much safer and you reduce the risk of property damage or personal injury from falling branches. You also help protect your trees and yard from insect or pest infestations. (Although, in some cases, infestations can get out of control and the only remedy is tree removal.)
Contact us today if you'd like our experienced, fully insured staff to give your trees an expert trim.
Tree removal
For unsafe trees, removal is the best solution. Trees can become dangerous for all sorts of reasons. Storms, heavy winds, fire and insect infestation are just some of the things that make trees unstable. Dying or dead trees can also be extremely hazardous.
Some trees aren't dangerous but simply in the wrong place. Maybe they're growing right where you'd like to build a patio or install a pool. At Wolf Trees & Gardens, we are experts at all kinds of tree removal in Sans Souci. Our tree removal services are fast, safe and efficient.
Call us today for a free quote.
Stump grinding
Tree stumps can be a major pain. People trip on them and stumps can easily become infested with insects like termites, leading to other problems on your property.
The best way to get rid of stumps is by stump grinding. At Wolf Trees & Gardens, we have the equipment to grind your stumps into small wood chips. Our staff are qualified, experienced and insured. We provide a free clean-up after the job is completed. Your Sans Souci yard or property will be left looking neat and tidy and completely free of stumps.
Don't let your tree stumps stump you! Contact us today to get rid of them.
Call Jonnie for a Free Quote Now!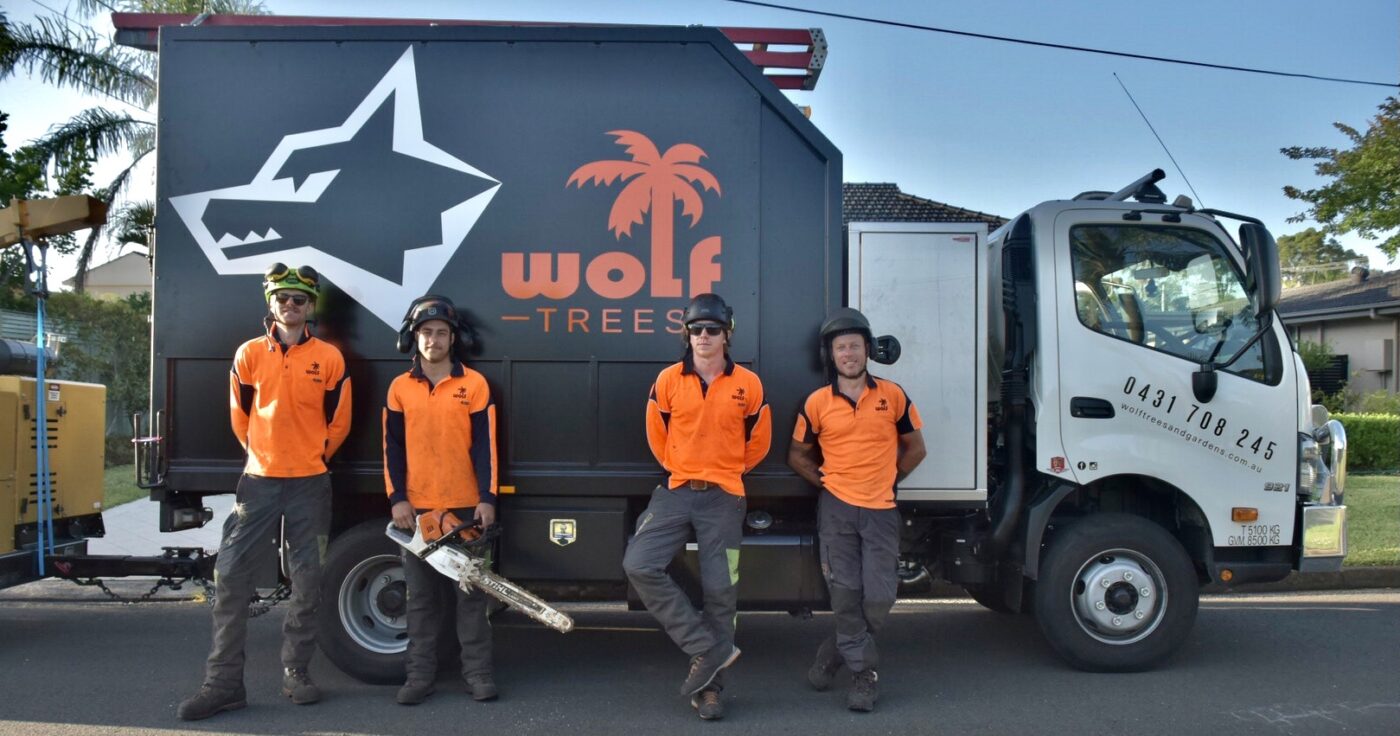 Next steps
1
Check with local council if permit is required
2
Call and ask Jonnie for a quote
3
You will receive a text message confirming a site visit to inspect
4
A formal quote to follow straight away with a copy of our qualifications and Insurances
5
Arrange a convenient time to book job in
6
You will receive text message the day before to confirming arrival time
7
Once Job is complete a thorough clean up is done, leaving the property clean
8
We will then walk you through what work has been done
9
Invoice will be sent, and payment can be made by internet transfer, credit card or cash
Client Testimonials
Call Jonnie for a Free Quote Now!