Call Jonnie today for an affordable & professional tree service
My name is Jonnie, and I'm the proud founder and owner of Wolf Trees & Gardens. My company excels at providing high-quality tree removal and tree cutting services for our customers in the Randwick community and surrounds.
We are a local professional business that has a staff of fully insured, knowledgeable and professional people that is ready to take on a broad range of tree cutting and tree removal projects. We can finish most jobs between 7 and 10 days, and no project is too hard for our staff to take on. If you have an area with tricky parking, smaller trees or a townhouse that has difficult access points, we can access it and take care of these problems quickly.
You can call and ask to talk to me, Johnnie. I'll be happy to give you a fast and free quote within 48 hours. We understand how valuable your time and property is to you, and we ensure that we do a thorough job from the first point of contact until we clean up your yard and recycle all of your project's green waste. Our eco-friendly cleanup allows you to quickly and easily enjoy your yard after we leave.
Residents of the Randwick community know that they can count on Wolf Trees & Gardens for excellent value for their money, fast and efficient service and a professional staff that dedicates themselves to doing an excellent job, every time.
We invite you to contact us today and see what it's like to work with a company who always puts our customers' needs first and to get your fast and free quote.
Call me, Jonnie today and schedule your fast and free quote!
18 meter Eucalyptus Tree gone in 9 secs
Services
If you need stump removals, tree pruning or tree removal, look no further than Wolf Trees & Gardens. We go above and beyond for our customers, and we bring years of experience and knowledge to each job.
Stump Grinding
Is there a bothersome stump that someone has injured themselves on or it's caused damage to your lawn equipment? Maybe it's simply taking up far too much space that you could dedicate to leisure activities or is in the way of a renovation. No matter the reason, we can help.
Stumps can bring long-term problems to your property, and our professional and experienced company can take care of them for you. We'll grind your stump down and remove any debris to leave you with a clean yard that's ready for you to work with.
Tree Pruning
Are you trying to get a more attractive yard to entertain in, or maybe you have an insect problem that you just can't make go away? If you have these problems along with dying and dead branches, we can safely prune them.
I recommend hiring a company that has fully insured staff, quality equipment, and hands-on experience to complete your tree pruning projects like Wolf Trees & Gardens. We'll come an inspect your trees, give you our recommendations and have a fast and free quote to you within two business days.
Tree Removal
A structurally unsound, decaying, dead or dying tree is a huge hazard for anyone who walks or plays around them. Is there a tree that is too close to your existing structures or is it in the way of planned renovations? Let us remove it for you!
We've removed trees for the residents of Randwick since 2011, and we have hundreds of tree removal projects and satisfied clients to prove it. We'll ensure everyone stays safe, and we'll clean up after ourselves, so you don't have to worry about a mess.
Call Jonnie for a Free Quote Now!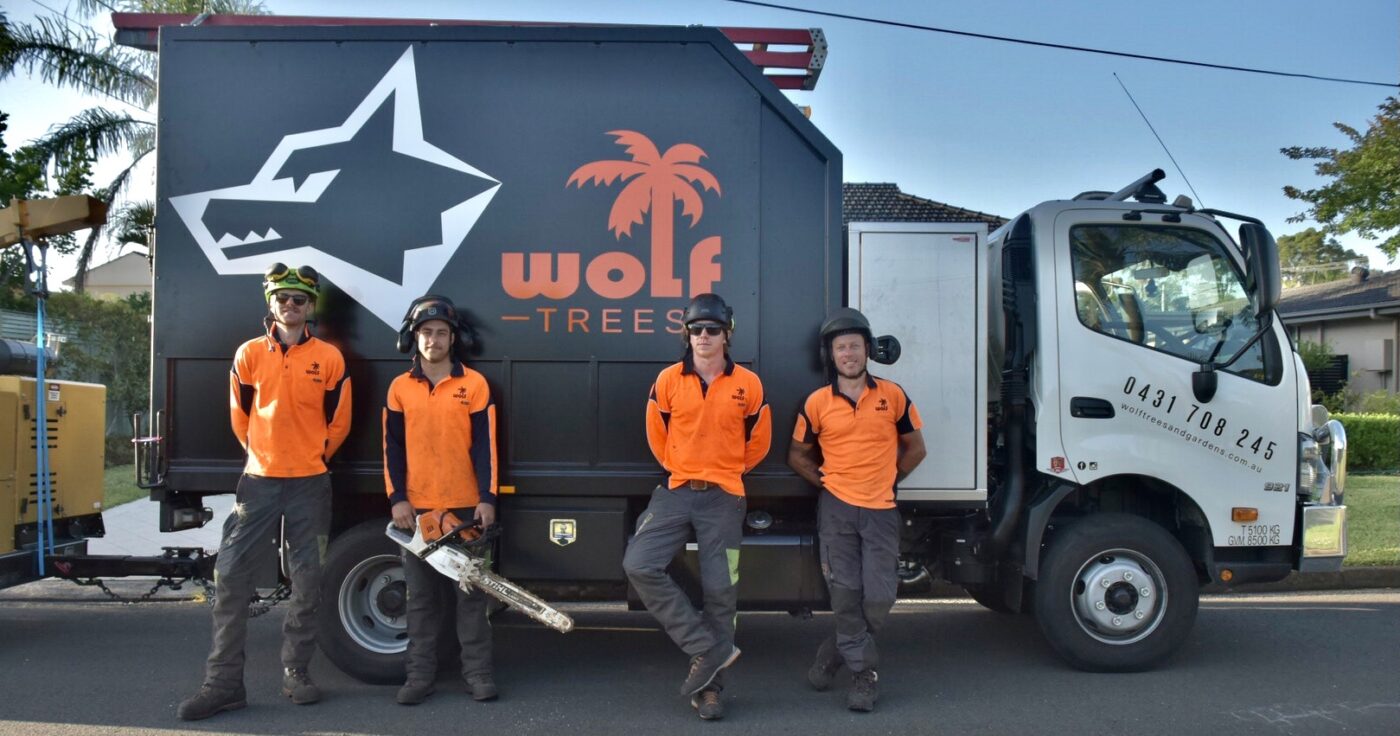 Next steps
1
Check with local council if permit is required
2
Call and ask Jonnie for a quote
3
You will receive a text message confirming a site visit to inspect
4
A formal quote to follow straight away with a copy of our qualifications and Insurances
5
Arrange a convenient time to book job in
6
You will receive text message the day before to confirming arrival time
7
Once Job is complete a thorough clean up is done, leaving the property clean
8
We will then walk you through what work has been done
9
Invoice will be sent, and payment can be made by internet transfer, credit card or cash
Client Testimonial
Great service. .arrived on time..took the time to ask exactly how we wanted the job to look, included progress photos to keep us up to date..and a spotless clean up once finished.
– Vince C

For stump grinding, tree pruning and tree removal, contact Jonnie at Wolf Trees & Gardens by ringing us at 0431 708 245 for your fast and free quote!
Call Jonnie for a Free Quote Now!