Call Jonnie today for an affordable & professional tree service
Hi. My name's Jonnie. I'm the proud owner of Wolf Trees & Gardens. We're a local business and we provide qualified tree removal and cutting services for the Ramsgate community.
We've been in business since 2011. Ramsgate residents can rely on us for high-quality, safe and affordable tree maintenance and removal work. We are fully insured and we offer fast and free quotes. We'll get back to you in just 2 business days!
With years of experience behind us, we know how to handle jobs that seem impossible. Townhouses with restricted access or residences with tight parking are no problem for Wolf Trees & Gardens. We can also help with small trees, bushes and other plants.
Whether it's tree removal, tree pruning, stump grinding or other tree maintenance work, we operate quickly and efficiently. Our prices are affordable to all Ramsgate residents and include a complimentary clean-up. Your yard will look neat and tidy when our team leaves your home.
All green waste gets recycled because we care about our local area and the future of our planet. We're also committed to keeping our strong reputation as a trustworthy local business with high standards. We have many long-term customers who depend on us for tree maintenance and removal services.
Get in touch with Wolf Trees & Gardens today. You can speak to me, Jonnie, and I'll arrange a time and day to come and look at the trees on your Ramsgate property. Just like our services, our quotes are free and fast, too.
18 meter Eucalyptus Tree gone in 9 secs
Services
Our staff are fully insured and experienced. We get the job done fast with maximum efficiency while never compromising on quality.
Tree Pruning
Tree pruning involves cutting off dead, damaged or dying branches from trees of all sizes. If healthy branches are unwanted or troublesome, they can be pruned off, too.
When your trees are properly pruned, not only do they look better but your entire yard becomes much safer for everyone to use as well. You'll get much more enjoyment out of your Ramsgate home.
Wolf Trees & Gardens will come to your property in Ramsgate to look at the trees you want to be pruned. We have all the right equipment to get the job done quickly. We clean up our mess and leave you with well-trimmed trees that add value to your property. Get in touch today for a free quote.
Tree removal
Ramsgate has a reputation for being clean and green, but that doesn't mean trees are never a problem here. Trees can easily become unstable and dangerous. They can also become infested with nasty pests and insects that can destabilise the tree's structure.
To protect people and properties, unstable or unsafe trees should always be removed. This is not an easy job and should only be handled by qualified and experienced tree removal specialists.
Wolf Trees & Gardens can remove trees rapidly and safely in the Ramsgate area. Get in touch today for a fast, free quote.
Stump grinding
Stumps are not only an eyesore but they're also often the cause of trouble. People trip over them and they get in the way when you're mowing the lawn. Stumps attract unwanted insects such as termites, too. In some cases, these infestations can spread to the rest of your property.
At Wolf Trees & Gardens, we provide expert stump grinding services to Ramsgate residents. We have years of experience in stump grinding and with our specialised grinding equipment, we can get rid of your stumps quickly, efficiently and affordably.
Don't attempt to remove tree stumps yourself. You risk pulling a muscle or injuring your back. Get in touch today for a free quote on our safe stump grinding services in Ramsgate.
Call Jonnie for a Free Quote Now!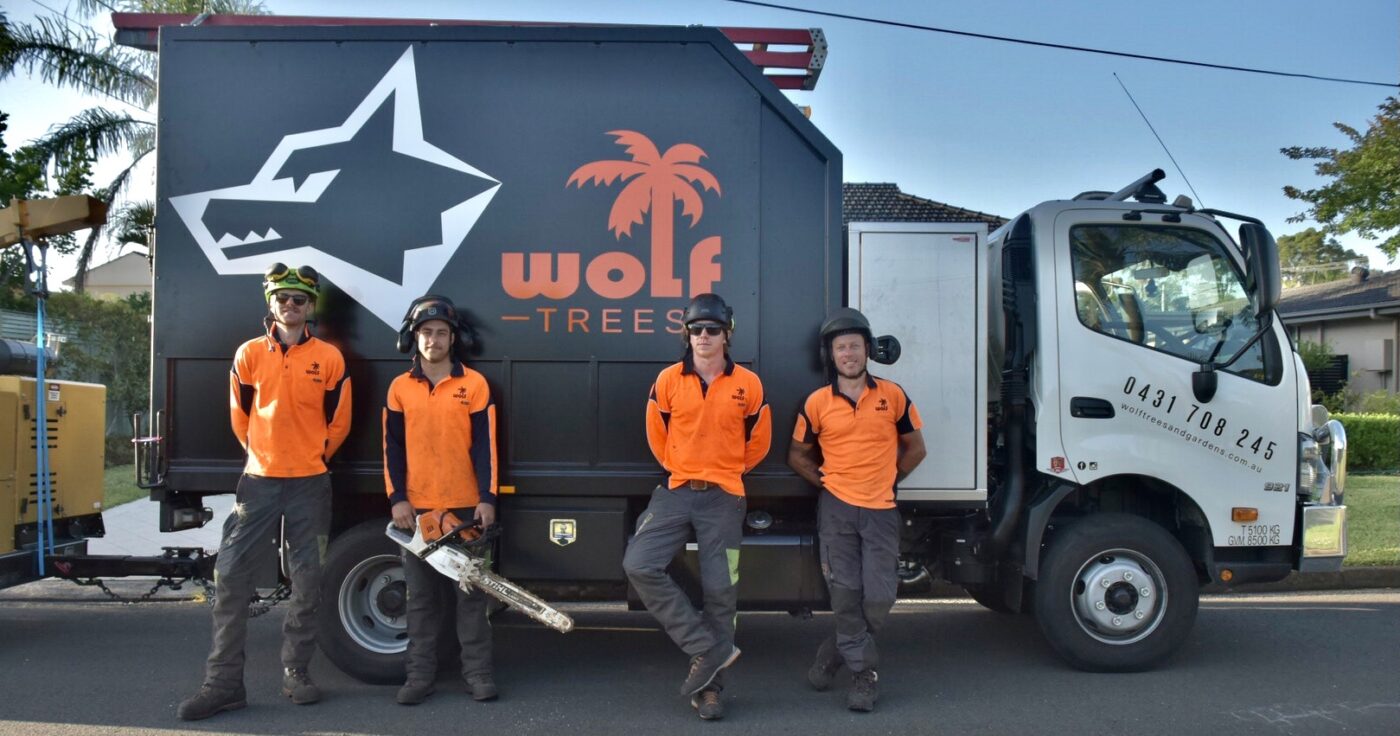 Next steps
1
Check with local council if permit is required
2
Call and ask Jonnie for a quote
3
You will receive a text message confirming a site visit to inspect
4
A formal quote to follow straight away with a copy of our qualifications and Insurances
5
Arrange a convenient time to book job in
6
You will receive text message the day before to confirming arrival time
7
Once Job is complete a thorough clean up is done, leaving the property clean
8
We will then walk you through what work has been done
9
Invoice will be sent, and payment can be made by internet transfer, credit card or cash
Client Testimonials
Call Jonnie for a Free Quote Now!