Call Jonnie today for an affordable & professional tree service
Peakhurst is one of those Sydney suburbs with great trees. But to stay in great shape, trees need maintenance. Sometimes a tree may even need to be removed.
I'm Jonnie and I can help with tree maintenance and removal services. I'm the proud owner of Wolf Trees & Gardens. We've been in business since 2011. In that time, we've built a solid reputation in Peakhurst, thanks to our high-quality work and affordable prices.
If you're a Peakhurst homeowner and need qualified tree maintenance services, just contact us and we'll give you a free and fast quote. It takes only 48 hours!
Our services are fully insured and our many loyal and satisfied customers appreciate our reliability, high standards and great value for money. When the trees in your yard are safe and well-maintained, you can enjoy your home much more.
The environment is important to us, and that's why at Wolf Trees & Gardens, we recycle all of our green waste. You'll also get a free clean-up once we've completed the job. We'll leave your yard looking spotless.
We pride ourselves on delivering quality services on all jobs. We welcome tricky tree situations where we can put our local knowledge and expertise to the test. If there are difficulties with townhouses, parking, access or even if the trees are on the small side, we can help.
For affordable, quality tree removal and maintenance services in Peakhurst, call Wolf Trees & Gardens today. Speak to me, Jonnie, and within 2 business days, I'll come to your property and give you a free quote.
18 meter Eucalyptus Tree gone in 9 secs
Services
Your one-stop shop for quality tree pruning, tree removal and stump grinding services in Peakhurst.
Tree Pruning
If your home has trees, you need to prune them regularly to make sure they don't become too big or too dangerous.
Tree pruning needs to be done properly so that the tree isn't harmed. You also need to be sure people and property are not harmed during any tree pruning work.
Wolf Trees & Gardens can provide a completely safe tree pruning service in the Peakhurst area. Our qualified staff are fully insured and get the job done quickly, efficiently and affordably. Your outdoor areas will be safer and tidier when you use our tree cutting and maintenance services.
Call us today for a free quote.
Tree removal
If a tree becomes structurally unsound, it can become a threat to safety. Many things can cause a tree to become unsafe and unsound, including bad weather, disease, infestation and tree death.
Dangerous trees need to be removed as quickly as possible before they harm anyone or anything. Wolf Trees & Gardens can make your tree vanish completely. We provide a fast, efficient and completely safe tree removal service in Peakhurst. We also remove trees that aren't dangerous but are in a bad location.
Call Wolf Trees & Gardens today to find out more about our fully insured tree removal services.
Stump grinding
Getting rid of tree stumps is tough work. That's why you need to call qualified, experienced and insured stump grinders. Wolf Trees & Gardens will remove tree stumps on your Peakhurst property with speed and efficiency. We'll also clean up after our stump grinding work.
Our prices are affordable and well worth it! Stumps can stop you from getting the most out of your outdoor areas. They cause people to trip and fall and they attract nasty insects that can go on to infest other areas of your home.
Contact Wolf Trees & Gardens today and you could soon be waving goodbye to your stumps!
Call Jonnie for a Free Quote Now!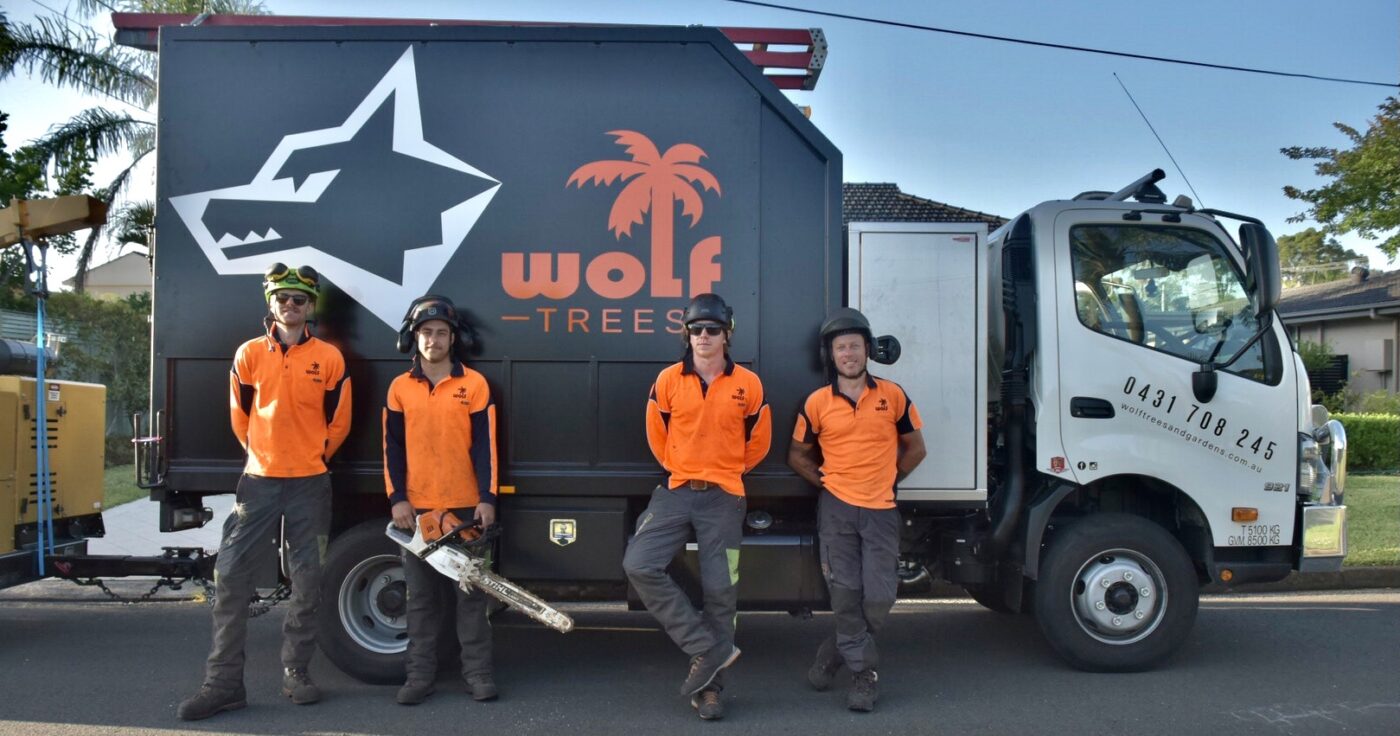 Next steps
1
Check with local council if permit is required
2
Call and ask Jonnie for a quote
3
You will receive a text message confirming a site visit to inspect
4
A formal quote to follow straight away with a copy of our qualifications and Insurances
5
Arrange a convenient time to book job in
6
You will receive text message the day before to confirming arrival time
7
Once Job is complete a thorough clean up is done, leaving the property clean
8
We will then walk you through what work has been done
9
Invoice will be sent, and payment can be made by internet transfer, credit card or cash
Client Testimonials
Call Jonnie for a Free Quote Now!