Call Jonnie today for an affordable & professional tree service
Hi, my name is Jonnie and I'm a tree removal and tree maintenance expert.
If you're a homeowner in Oyster Bay, you probably have some beautiful trees on your property. They make a house feel like home, but trees can easily cause problems. You need to maintain them properly and remove them when they become dangerous.
That's where I can help. Since 2011, my local business, Wolf Trees & Gardens, has been cutting and removing trees. We provide fast, top quality services at prices homeowners can afford.
How do you get started? Just call for a fast quote (you won't have to wait more than 48 hours) and it's free! This offer is for every Oyster Bay customer who gets in touch.
When we do a job, we give it our complete dedication. Thanks to our hard work and high standards, we've built a strong and loyal customer base in Oyster Bay. Our qualified and fully insured staff give you great peace of mind and unbeatable value for money.
We also have high environmental standards. All green waste is recycled. As for clean-up, it's totally free, once the job's finished.
No tree removal or maintenance job is too tough for us to handle. If it's a townhouse with difficulty of access or parking nightmares, we can help.
Ready to get rid of problem trees and branches and enjoy life again? Call Wolf Trees & Gardens today. You can talk to me, Jonnie. I'll be at your property soon (within 2 business days) to give you a free quote.
18 meter Eucalyptus Tree gone in 9 secs
Services
Our quality tree pruning, tree removal and stump grinding services in Oyster Bay are a cut above the rest.
Tree Pruning
It's amazing how fast trees grow in beautiful Oyster Bay. It's amazing how fast they can create problems on a property, too. Pruning established trees is not easy work, unless you're an expert with years of experience.
At Wolf Trees & Gardens, we prune trees every day, getting rid of dead, drooping and unwanted branches safely, quickly and without any hassles. Your property or yard will instantly be safer and there'll be less risk of damage and injury caused by falling branches.
Tree pruning also aids in protecting against insect infestations, which can damage a tree so badly that the only option is to remove the whole tree.
Call us today. Our experienced team is fully insured and ready to prune your trees into shape!
Tree removal
When a tree becomes unsafe, removing it is a must. There are many ways in which a tree can become dangerous in Oyster Bay. Strong winds, storms or fires can damage it. Insects or other pests can infest it. It could be dying or already dead or simply too close to other structures.
Whatever condition your tree is in, Wolf Trees & Garden can quickly, safely and efficiently remove it. Your tree might be perfectly healthy, but you might want to use that space for something else. Call us today and we'll get rid of problematic or unwanted trees for you.
Stump grinding
If you have a tree stump in your yard, you probably want to get rid of it. Tree stumps only cause problems. They're a major tripping hazard and they attract the type of insects that create infestation problems. Often, tree stumps are in the exact spot you'd like to plant some veggies or build a deck.
Stump grinding is the best solution for unwanted tree stumps. It's messy and hazardous work, so it's best left to professionals. The fully qualified and insured team at Wolf Trees & Gardens has years of experience in stump grinding. Our services include a free clean-up once the job is done, leaving your Oyster Bay property with a tidy, stump-free yard.
Call Jonnie for a Free Quote Now!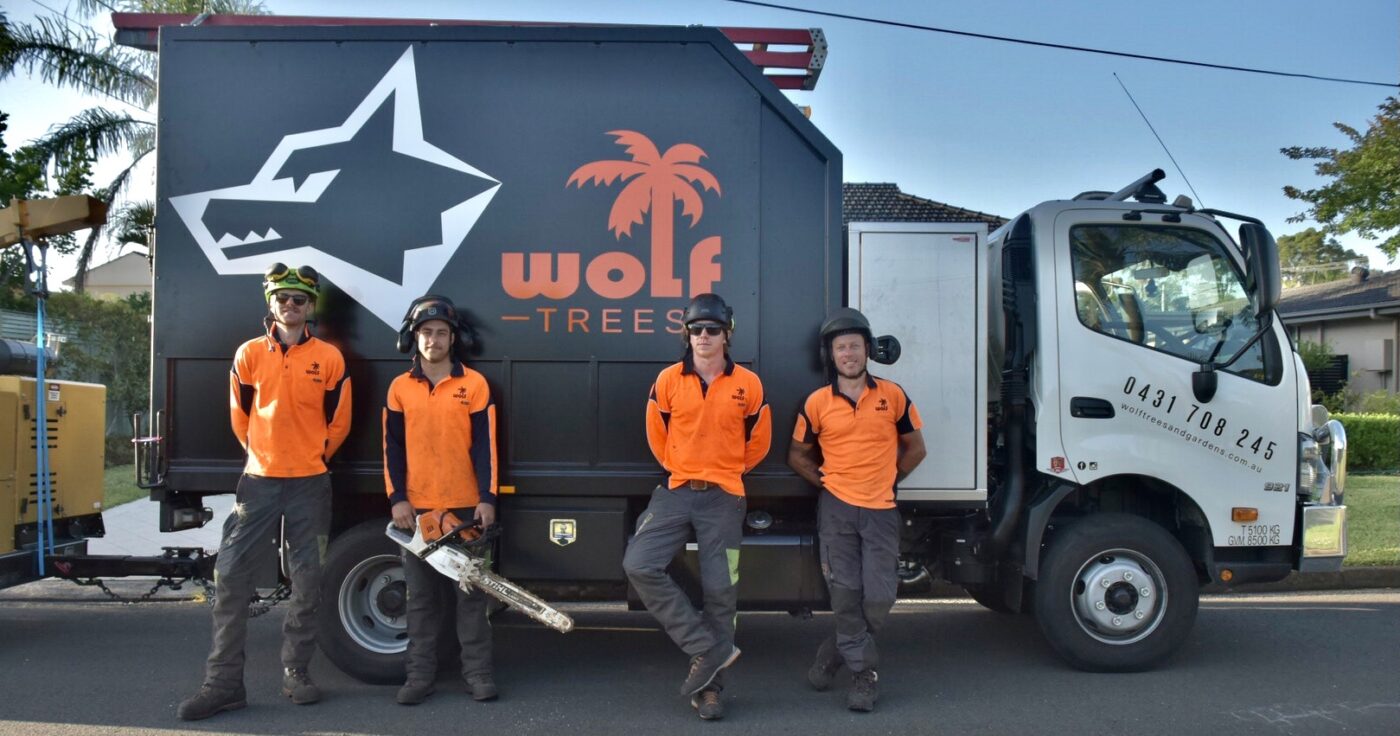 Next steps
1
Check with local council if permit is required
2
Call and ask Jonnie for a quote
3
You will receive a text message confirming a site visit to inspect
4
A formal quote to follow straight away with a copy of our qualifications and Insurances
5
Arrange a convenient time to book job in
6
You will receive text message the day before to confirming arrival time
7
Once Job is complete a thorough clean up is done, leaving the property clean
8
We will then walk you through what work has been done
9
Invoice will be sent, and payment can be made by internet transfer, credit card or cash
Client Testimonials
Call Jonnie for a Free Quote Now!