Call Jonnie today for an affordable & professional tree service
When searching for professional and reliable tree and stump services in Newtown, Enmore or Stanmore, look no further than Wolf Trees and Gardens. When you call, feel free to ask for me, Jonnie.
I take pride in the work that my team and I have performed for clients in the Newtown area. We build our reputation through customer satisfaction and referrals, so put our best into every job. Our fully insured and qualified team finds no job too difficult or too small to perform to your satisfaction.
Our standard lies in exceeding your expectations. We show up on time, work quickly and efficiently, and then do a thorough and free cleanup. At Wolf Trees and Gardens, we work to make sure your property looks better at the end of the job than at the beginning.
Call me, Jonnie today and schedule your fast and free quote!
Need a Tree Removal/Pruning Permit? Get a FREE Quote Now!
Inner West Council requires you to get a permit for pruning and removing trees on private land. To secure your permit, you need to submit a quote from a qualified arborist. At Wolf Trees and Gardens, we offer FREE quotes to assist with your permit applications.
For more details and to access the Inner West Council Application to Prune/Remove Trees, visit Inner West Council Application.
18 meter Eucalyptus Tree gone in 9 secs
Services
Regardless of the customer, whether a business or a homeowner or anyone in between, we apply the same diligence to each job. Our reputation in Newtown depends on our service, and I am proud of the reputation that we have earned.
Tree Pruning
Just like people and animals, trees can get sick. One of the most important signs that a tree has taken on ill-health lies in branches and limbs dying. Not only do dying limbs potentially further harm the tree, but they can also cause damage.
Falling limbs and branches can seriously injure people and damage the home, vehicles, or other structures. When you need safe tree pruning services, call Wolf Trees and Gardens.
Tree Removal
Sometimes pruning does not go far enough. When the tree itself has started to die, it can create a major safety issue. Falling trees can destroy buildings and homes, severely damage vehicles or yard equipment, and even kill those unfortunate enough to get caught in the way.
Other times, existing trees can cause problems for power lines or may be in the way of planned expansion of a home or building.
When you need a tree removed, for whatever reason, you need an experienced team. Tree removal, especially in residential neighbourhoods, requires precision. Falling trees can do a lot of damage, so it is imperative that the removal team has experience.
Wolf Trees and Gardens employs fully licensed, trained, and insured teams to take care of your tree removal problems. We also recycle all green waste.
Stump Grinding
Stumps present worse problems than just looking ugly. They can get in the way of full enjoyment of your yard, serving as a hazard to grass mowing or recreational activities.
Even worse, stumps serve as perfect living spaces for termites and other destructive bugs. Australian termites are unusually voracious and will aggressively colonise your home from their base in a rotting stump.
Call us today to grind down and remove your stump quickly, efficiently, and at a reasonable cost.
Call Jonnie for a Free Quote Now!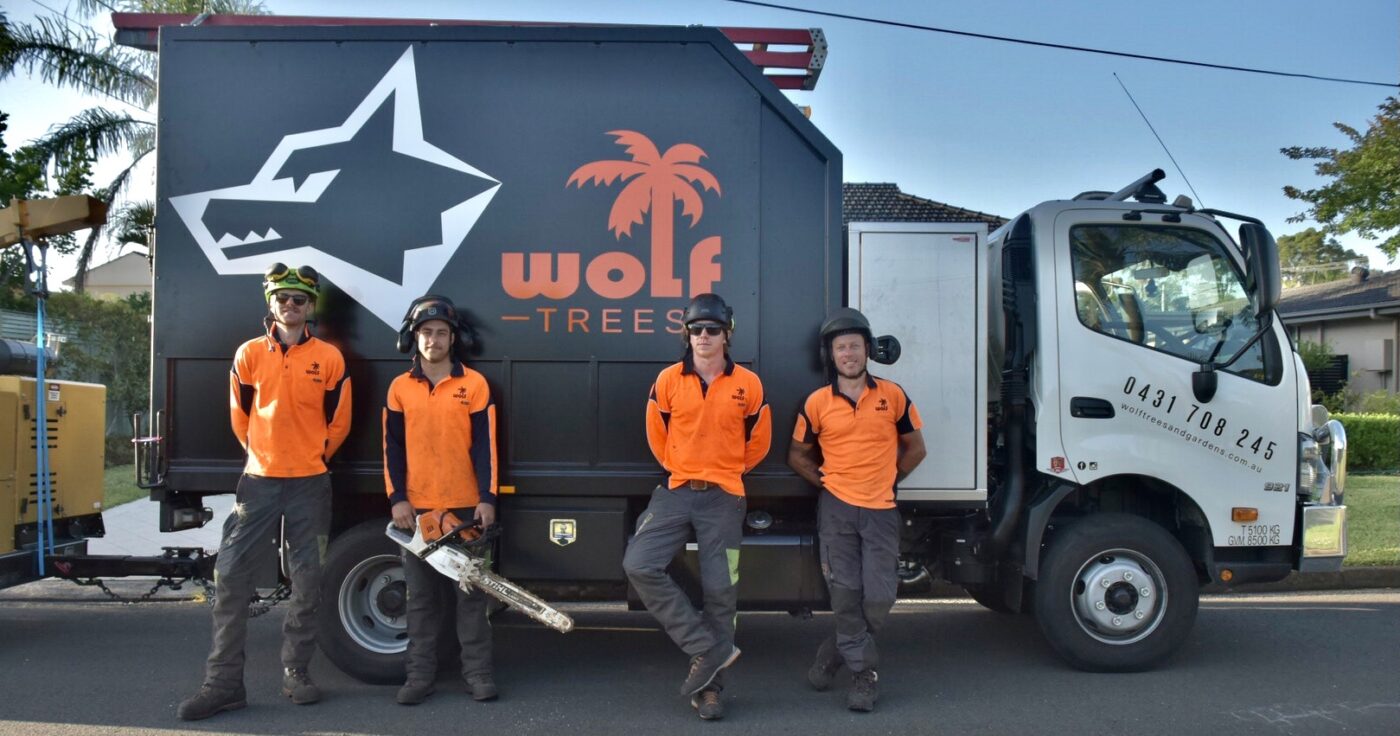 Next steps
1
Check with local council if permit is required
2
Call and ask Jonnie for a quote
3
You will receive a text message confirming a site visit to inspect
4
A formal quote to follow straight away with a copy of our qualifications and Insurances
5
Arrange a convenient time to book job in
6
You will receive text message the day before to confirming arrival time
7
Once Job is complete a thorough clean up is done, leaving the property clean
8
We will then walk you through what work has been done
9
Invoice will be sent, and payment can be made by internet transfer, credit card or cash
Client Testimonial
Jonnie and his team are amazing. Polite and friendly to deal with. Excellent tree removal and left the place spotless. Would highly recommend!
Linda B

Ready to improve the safety of your property and enhance its appearance and value? Call Wolf Trees and Gardens today and ask for Jonnie. I invite all potential customers in for a free consultation and quote.
We examine your property, discuss your needs, and then perform the job to your specifications.
Call today at 0431 708 245 or use our convenient contact page. I am happy to answer all of your questions and schedule you for a free quote.
Let our team return your property to safe splendour through expert and reliable pruning and removal services. We have proudly served clients in Newtown for years and look forward to working with you as well.
Call Jonnie for a Free Quote Now!