Call Jonnie today for an affordable & professional tree service
Are you having problems with your trees in Mortdale? Do you need a tree pruning expert or someone who can do quality tree maintenance work? Maybe you even need a tree removal specialist.
Hi, I'm Jonnie and I can help. I'm the proud owner of Wolf Trees & Gardens. Since 2011, we've been servicing the Mortdale community. We cut, prune, trim, remove and take care of trees, saving you time, energy and money.
We provide an affordable, high-quality service. We'll give you a free and fast quote on your tree removal or maintenance job. In just 48 hours, you'll have all the cost details at your fingertips.
Over time, we've established a healthy base of return customers in Mortdale. They're loyal to us because of our high standards and unmatched value for money.
Our services are qualified, insured and friendly to the environment. We recycle all of our green waste. We also do a complimentary clean-up when we've finished taking care of your trees. You'll be able to use and enjoy your yard immediately.
At Wolf Trees & Gardens, we have a solution for all tree problems. We can handle townhouses with limited access or parking issues. We can also help with smaller trees.
You could be getting much more out of your yard. Call us today and speak to me, Jonnie. I'll come to your Mortdale home and give you a fast, free quote.
18 meter Eucalyptus Tree gone in 9 secs
Services
High-quality tree maintenance and removal services for the Mortdale community.
Tree Pruning
Are your trees getting too big and bushy? Are tree branches making life difficult at your Mortdale home? If so, you need the help of Wolf Trees & Gardens.
We provide fully insured, quality tree pruning services and we get the job done fast! We have the right equipment to cut off dead, damaged, drooping and unwanted branches with amazing efficiency. With proper pruning, your yard will be safer, tidier and easier to use.
Well-pruned trees are healthier, too. They're less likely to suffer from damaging insect or fungal infestations that can destroy an entire tree.
Call Wolf Trees & Gardens today. We look forward to making your trees and bushes beautiful, healthy and safe again.
Tree removal
There's really only one solution for unsafe or unwanted trees: tree removal. However, tree removal is not something you should try on your own. If you're a Mortdale resident, you're in luck because you can call Wolf Trees & Gardens for safe, efficient and affordable tree removal services.
Our qualified and insured staff will come to your home and get rid of the tree. Whether it's dead, dying, damaged, infested or occupying an inconvenient spot, we can remove it. We'll also clean up all the debris, leaving you with a safe, tidy yard.
Call us today for a free quote on our reliable tree removal services.
Stump grinding
Some yard work is best left to qualified, insured workers. Removing stumps is one of those jobs and the best way to get rid of stumps is by grinding them.
At Wolf Trees & Gardens, we provide a complete stump grinding service to Mortdale residents. Using specialised equipment, we grind your tree stumps until all that's left is a pile of wood chips.
Stump grinding provides many advantages. Not only does it free up your yard, but it also makes your yard a safer place. No more tripping over the stump or bumping into it with your lawnmower. You also won't have to worry about the stump becoming infested with pests.
Wolf Trees & Gardens provides a complimentary clean-up when we've finished stump grinding. You'll be amazed at how much better your yard is without unsightly stumps.
Call us today for a free quote on all your stump grinding needs.
Call Jonnie for a Free Quote Now!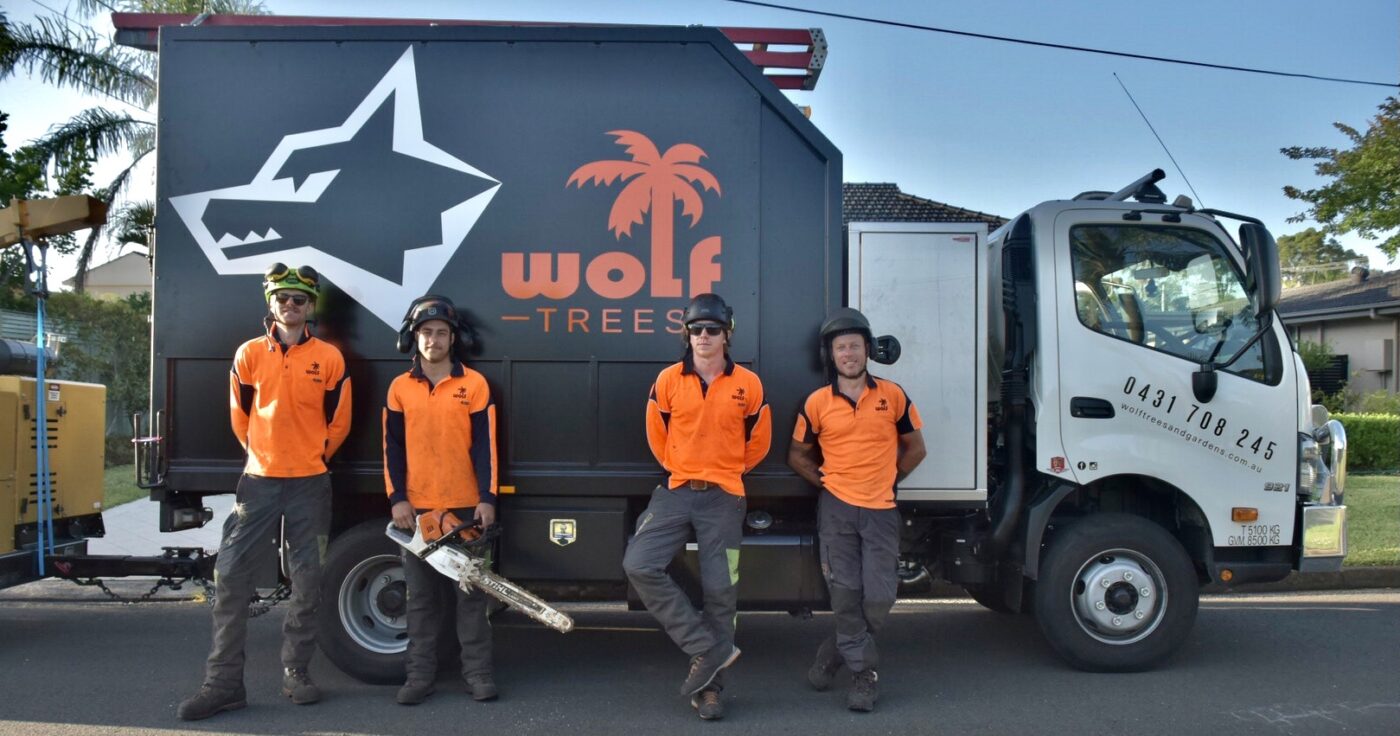 Next steps
1
Check with local council if permit is required
2
Call and ask Jonnie for a quote
3
You will receive a text message confirming a site visit to inspect
4
A formal quote to follow straight away with a copy of our qualifications and Insurances
5
Arrange a convenient time to book job in
6
You will receive text message the day before to confirming arrival time
7
Once Job is complete a thorough clean up is done, leaving the property clean
8
We will then walk you through what work has been done
9
Invoice will be sent, and payment can be made by internet transfer, credit card or cash
Client Testimonials
Call Jonnie for a Free Quote Now!