Call Jonnie today for an affordable & professional tree service
Welcome to Wolf Trees and Gardens!
For the past decade, the Miranda neighbourhood in New South Wales has depended on us for its tree cutting and removal requirements.
We have been providing reliable, efficient, affordable and friendly tree pruning, tree removal and stump grinding services to the people of Miranda since we began operating in 2011. Everyone in the community knows they can depend on us for quick and cost-effective services. This is why people here continue to call on us for help in monitoring and assessing the health of their trees, as well as in maintaining tree health in their neighbourhood.
Through the years, we've received hundreds of calls, and we've always responded with promptness and urgency. We know that you'll only call us when the situation of your tree is dire. This is why we're ready to respond with a fast and free quote within two business days, if not earlier.
With Wolf Trees and Gardens, you can expect quick and professional service.
Our tree experts are fully insured, and our customer service team is ever-ready to take your call.
Call me, Jonnie today and schedule your fast and free quote!
18 meter Eucalyptus Tree gone in 9 secs
Services
Do you need tree pruning, tree removal or stump grinding help?
Whichever service you require, we'll take care of everything – from start to clean-up. You also have our assurance that for any job we undertake, we will finish it within 7 to 10 days, so you can just go back to your usual routine.
You can also count on us to recycle all the eco waste after we've completed our task.
At Wolf Trees and Gardens, you are our priority, and your satisfaction is guaranteed.
Tree Pruning
Beyond ensuring you enjoy great views of your neighbourhood, tree pruning offers several other benefits for your trees.
Getting your trees pruned can greatly improve tree health. How? The pruning process helps remove diseased, damaged or broken sections of the tree to make way for the growth of the healthy parts. This will ensure your tree will flourish and look beautiful and vibrant in the next few months.
The removal of weak or broken parts of the tree also ensures the safety of your family and any passers-by in case the tree is close to the street.
Just give Wolf Trees and Gardens a call so we can start pruning.
Tree Removal
We love our trees, and we'd like to keep as many of them around as possible. However, there are also valid reasons for tree removal.
If the tree is severely infested, diseased, dying or already dead, it can pose risks to your family and pets. As such, it's best to get it removed. If it presents a threat to you or your neighbourhood's safety, such as the possibility of falling or breaking during a storm or severe, windy weather, then that tree needs to be taken down, too.
Trees that are too close to buildings, including your home, can cause expensive structural damage. So those are also tree removal candidates. If a tree gets in the way of your home renovation or extension project, you can also apply for its removal.
Let Wolf Trees and Gardens know about your tree removal needs!
Stump Grinding
A tree stump in your backyard is a waste of valuable space. It can also mar the beauty of your outdoor area. Besides, it can sprout and start growing again. Worse still, it can harbour pests and insects that can infest plants in your garden and other trees.
And instead of having a proper place for your barbecue, outdoor seating or fire pit, you need to plan your space around it – or not!
With our stump grinding services, you can get that tree stump removed for good.
Soon, you'll have a safe play space for your kids and pets. You can even put up an alfresco dining section you can enjoy with friends and family.
Give Wolf Trees and Gardens a call so we can start working.
Call Jonnie for a Free Quote Now!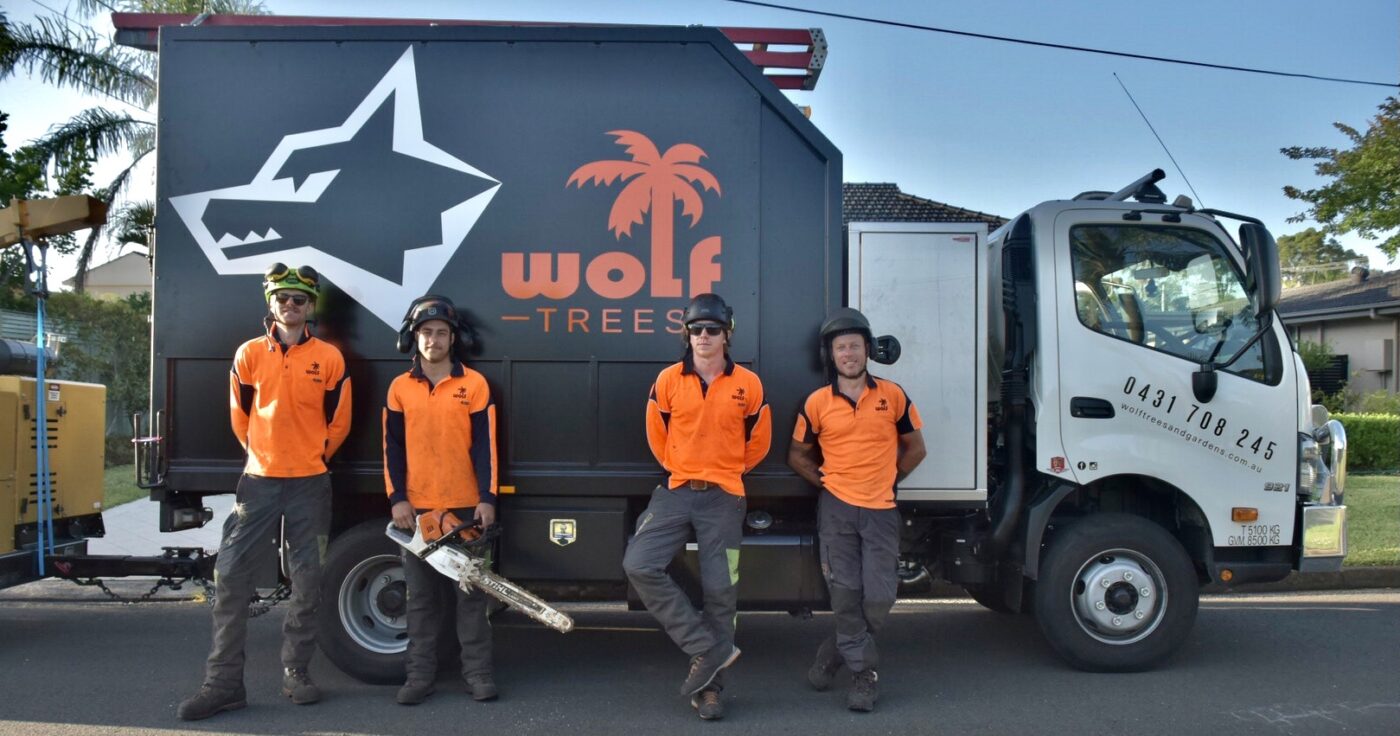 Next steps
1
Check with local council if permit is required
2
Call and ask Jonnie for a quote
3
You will receive a text message confirming a site visit to inspect
4
A formal quote to follow straight away with a copy of our qualifications and Insurances
5
Arrange a convenient time to book job in
6
You will receive text message the day before to confirming arrival time
7
Once Job is complete a thorough clean up is done, leaving the property clean
8
We will then walk you through what work has been done
9
Invoice will be sent, and payment can be made by internet transfer, credit card or cash
Client Testimonial
The Wolf team came to our place and were amazing!!!, very professional, very safe, and the the yard was left cleaner than it was before they started!!!, so impressed – well done Jonnie and boys.
– Luke – Miranda
Call Jonnie for a Free Quote Now!