Call Jonnie today for an affordable & professional tree service
Servicing Menai, Bangor, Barden Ridge, Alfords Point & Illawong.
My name is Jonnie, and I'm the proud owner of Wolf Trees & Gardens. My company takes immense pride in providing high-quality tree cutting and removal services for the residents of Menai and the surrounding communities.
We are a local business that has a fully insured and qualified staff that is ready and willing to tackle a variety of tree cutting and removal jobs. No job is too difficult for us to handle, and we complete most jobs within 7 to 10 days. If you have smaller trees, an area with difficult parking, or a townhouse with difficult access, we can take care of your problem trees professionally and efficiently.
You can call and talk to me, Jonnie, and I'll give you a fast and free quote within 24 to 48 hours. We understand how valuable your property is to you, and we take good care of it throughout the job from the first point of contact until we complete it. We offer free clean up services so you can enjoy your improved yard the same day. We're an eco-friendly company that recycles all of our green waste as well.
Residents of Menai know that when they call on Wolf Trees & Gardens, they're getting value for their money. Since 2011, we've built a solid reputation as a dependable and professional company that you can count.
Contact us today to receive your fast and free quote and to experience what it's like to work with a company who always puts their customers first.
18 meter Eucalyptus Tree gone in 9 secs
Services
If you need tree pruning, tree removal or stump grinding, look no further than the professional and dedicated staff at Wolf Trees & Gardens. We bring our knowledge and experience to each job, and we excel at going above and beyond for our customers.
Tree Pruning
Are you looking to get a neater-looking and more attractive yard to spend time in and enjoy? Do you have an insect infestation and you want to stop it from spreading? Perhaps you have dead, drooping or dying branches and you're worried that they'll fall and cause an injury. Whatever your reasoning, our staff at Wolf Trees & Gardens can help.
I highly recommend hiring a fully insured and reliable tree cutting and removal service to help with your tree pruning needs. We'll come to your property, assess your trees, and give your our recommendations along with our free quote within two business days.
Tree Removal
Is there a troublesome tree obscuring your view of the beautiful Menai landscape? Maybe you've noticed that one or some of your trees are dead, decaying, dying or have storm damage. If there is a tree that is too close to your existing structures or if you plan to renovate part of your home or yard, let us remove your troublesome tree or trees.
Since 2011, we have been removing trees for the residents of Menai, and we draw on our experience to ensure everyone remains safe during this process. We'll clean up after ourselves as well so you won't have to worry about having a big mess on your hands.
Stump Grinding
Do you have a stump that has damaged your lawn equipment or hurt someone as they walked around your yard? Is it simply taking up too much space that you would rather use for something fun like a fire pit or patio? Are you worried about new tree growth or an infestation of insects? If so, contact us.
Stumps can be a long-term problem, and you want a professional and experienced company to remove them for you. We'll remove your stump in an efficient and professional manner so you can have your yard back.
For tree pruning, tree removal, or stump grinding, call Jonnie at Wolf Trees & Gardens.
Call Jonnie for a Free Quote Now!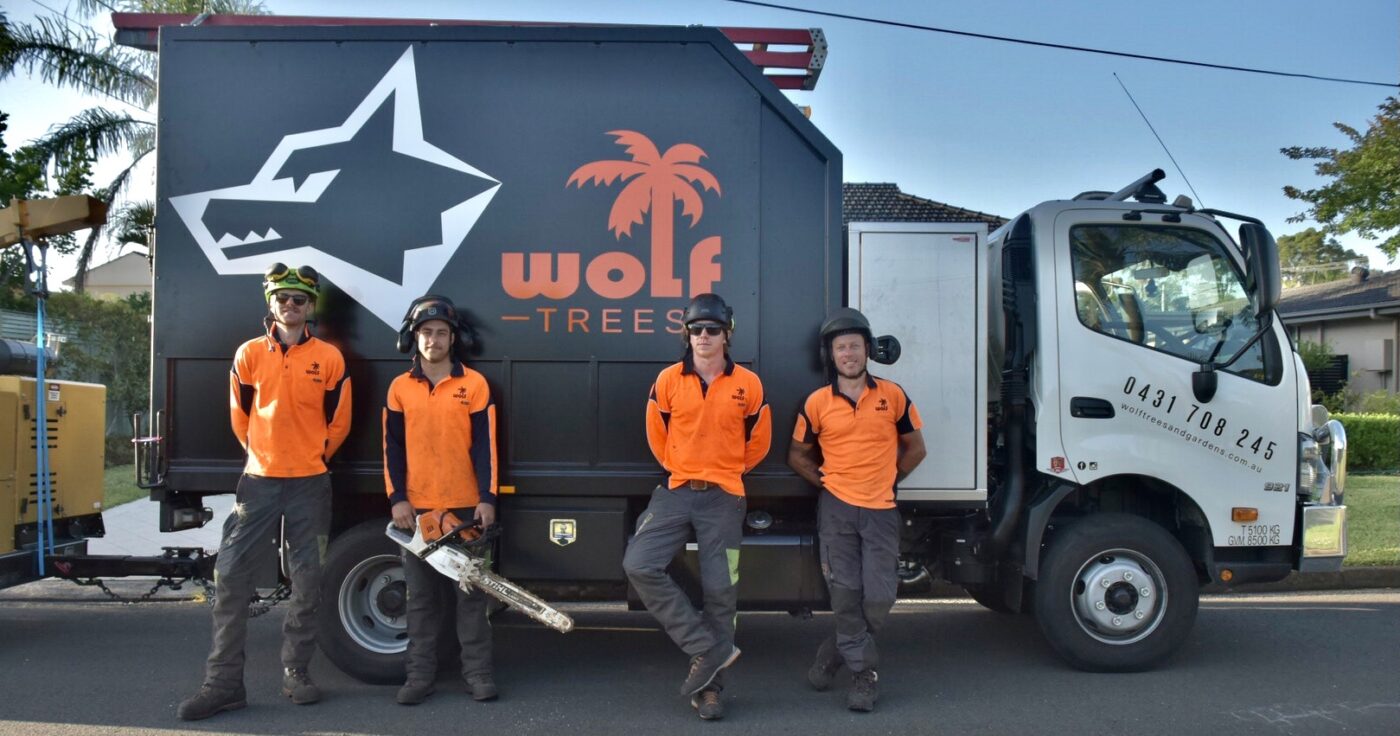 Next steps
1
Check with local council if permit is required
2
Call and ask Jonnie for a quote
3
You will receive a text message confirming a site visit to inspect
4
A formal quote to follow straight away with a copy of our qualifications and Insurances
5
Arrange a convenient time to book job in
6
You will receive text message the day before to confirming arrival time
7
Once Job is complete a thorough clean up is done, leaving the property clean
8
We will then walk you through what work has been done
9
Invoice will be sent, and payment can be made by internet transfer, credit card or cash
Client Testimonial
Overall a very satisfactory experience. My request for a quote was attended to promptly & the quote submitted in a timely fashion. The work was carried out at the agreed date & time & the yard was left nice & tidy.
Brian A
Call Jonnie for a Free Quote Now!