Call Jonnie today for an affordable & professional tree service
Wolf Trees affordable, professional arborists take the worry out of tree removal, pruning and maintenance.
Dangerous, rogue or overgrown trees on your Loftus property or boundary? Wolf trees provide fast and efficient tree service to homes and businesses throughout Sutherland Shire.
Fast, Friendly & Affordable Tree Services Loftus
When a dangerous overhanging branch needs pruning, the front hedge needs a trim or an overgrown palm tree need removing, you can count on the team of qualified and insured arborists at Wolf Trees for
Fast, Friendly Response
Clear Job Scope and Pricing
Affordable Rates
"No Job is Too Difficult!"
Tidy Clean-Up
Green Waste Recycling
Satisfaction Guaranteed
Even if the tree or hedge is in a difficult spot or borders the boundary you can trust us to get the job done. We've removed trees through a house, the odd time or two, and have five-star testimonials to prove our professional approach.
We get the job done and because we know you don't want to be left with more work to do, we guarantee to leave your place looking tidy. We work hard to leave our customers happy so that you will have us back and recommend us to your friends and neighbours.
18 meter Eucalyptus Tree gone in 9 secs
Tree Removal
Ensure Safety, Avoid Expensive Repairs or Extend Your Living Space
The team here at Wolf love our trees and advise clients to keep as many as possible. However, there are valid reasons for tree removal. The primary reason being safety. If a tree presents a threat to anyone's safety – risks falling or breaking during a storm or severe or windy weather – this is when a tree needs to be removed.
Trees that are too close to buildings, including your home, can cause expensive structural damage if they fall or root intrusion can lead to expensive repairs to underground drainage and plumbing. And of course, if a tree gets in the way of a planned home renovation or extension project, you can also apply for its removal.
Call Jonnie at Wolf Trees today for a free on-site quote for tree removal.
Tree Pruning
Boost Property Value & Enhance Your Outdoor Living
Trees are often pruned to remove stray and low hanging branches which open-up outdoor spaces and create shade that people can gather to. It can help create a tidy and attractive yard, it can expand views and improve the form of the trees as they grow. Regular pruning can encourage and improve yield on fruit trees by making way for new growth.
Broken and weak tree limbs can pose a danger to people and property, so tree pruning ensures the safety of your family, other people and property. Removing diseased, damaged or broken sections of a tree will help your trees grow stronger and healthy. At times pruning is required to remove insect that can eat leaves and fruits, bore and tunnel into the tree which unchecked can damage the tree to the point of needing to be removed.
The team at Wolf Trees make sure the process is safe and leave your property in the same (if not better) condition as when we started.
Stump Grinding
Remove Problem Stumps for Good
Tree stumps can take years to rot out if you do not proactively break them down, they may even grow back. They take up space, making mowing the lawn more difficult, often damaging lawn equipment and truth be told we are yet to see a good-looking stump. Plus, they harbour pests and insects, think of them as a potential ant palace.
Wolf Trees stump grinding service, will remove tree stumps for good. It is a noisy job but it's our job to have safety sorted so we can get the job done and leave your place looking spic and span. Rather than avoiding the stump every time you mow the lawn, call Jonnie for a free quote and our affordable and professional team can take care of it so that you have space to build that glass house, expand your garden or outdoor landscape or simply sit back, relax and let the lawn grow.

Call Jonnie for a Free Quote Now!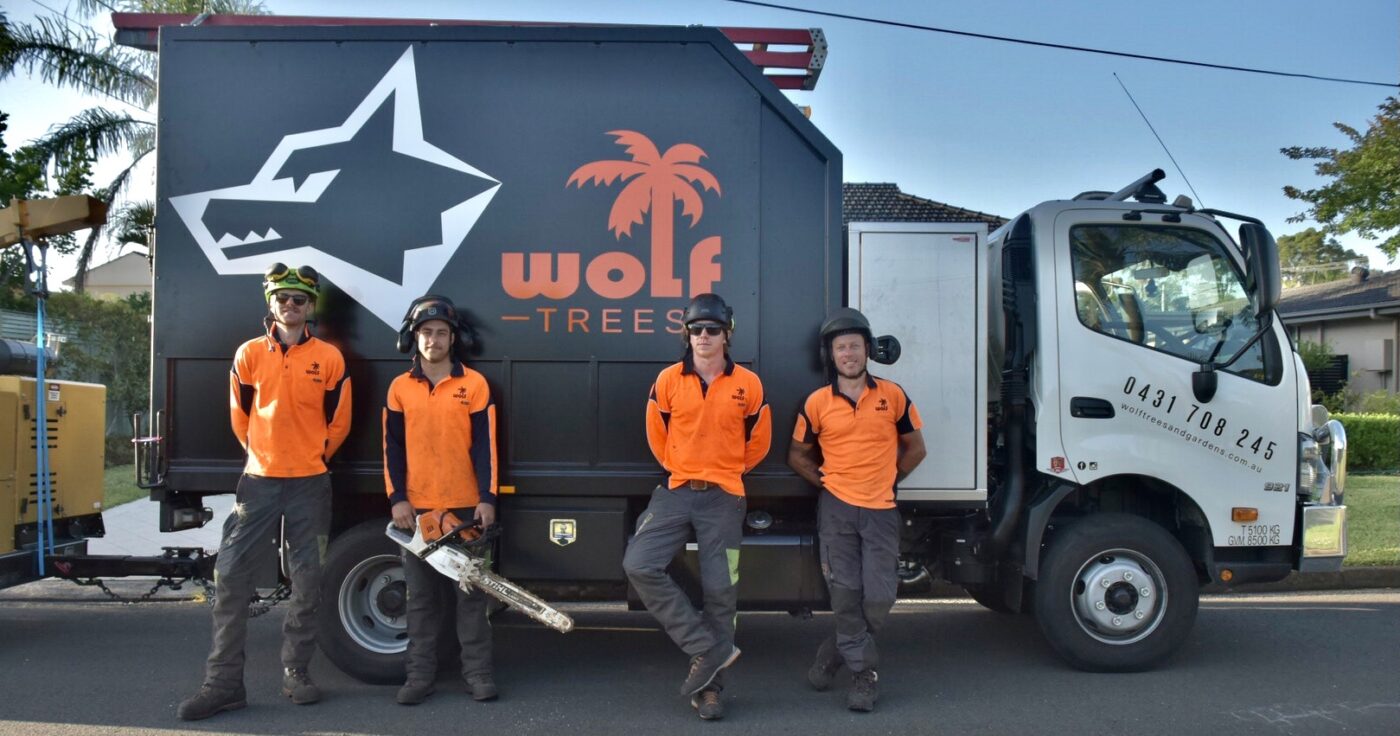 Next steps
1
Check with local council if permit is required
2
Call and ask Jonnie for a quote
3
You will receive a text message confirming a site visit to inspect
4
A formal quote to follow straight away with a copy of our qualifications and Insurances
5
Arrange a convenient time to book job in
6
You will receive text message the day before to confirming arrival time
7
Once Job is complete a thorough clean up is done, leaving the property clean
8
We will then walk you through what work has been done
9
Invoice will be sent, and payment can be made by internet transfer, credit card or cash
Client Testimonial
Jonnie and his team did a fantastic job removing our tree, which was in a difficult spot. They were punctual, efficient, well priced and I would highly recommend Wolf for any tree removals or trimming.
Emma W
Call Jonnie for a Free Quote Now!