Call Jonnie today for an affordable & professional tree service
Hi, I'm Jonnie. I'm the proud owner of Wolf Trees & Gardens, a local business that provides top tree cutting and removal services in Kogarah.
Wolf Trees & Gardens has been around since 2011. In that time, we've removed a lot of trees and done a lot of tree maintenance work. Our services are always fast, efficient and cost-effective. We take pride in the quality of our work, and we make safety a top priority.
Kogarah residents can call us for a free, fast quote (within 48 hours!). Whether you need tree removal, pruning or stump grinding, we guarantee a quality service from our fully insured and qualified staff. Wolf Trees & Gardens can also guarantee excellent value for your money.
If you like to do your bit for the environment, you'll be happy to know we recycle all green waste. We like to keep things neat and tidy, too. That's why we provide a free clean-up when we've completed all jobs.
Some tree removal and maintenance jobs are complicated. We love a tree challenge and with our long experience and excellent local knowledge of Kogarah, we know how to handle difficult trees in difficult locations. So if you have a townhouse with access issues, parking restrictions or other problems, we're confident we can sort things out.
Get in touch with Wolf Trees & Gardens today for all your tree removal and maintenance needs in Kogarah. You can talk to me, Jonnie. I'll come over within 2 business days and provide a free quote.
18 meter Eucalyptus Tree gone in 9 secs
Services
Expert Kogarah tree removal, tree pruning and stump grinding services at affordable prices.
Tree Pruning
All trees in residential areas in Kogarah need pruning from time to time. Some tree pruning jobs are too hard to handle on your own, especially if you don't have the right equipment.
At Wolf Trees & Gardens, our qualified and fully insured staff provide fast, safe and quality tree pruning services. We cut off dead, drooping and problem-causing branches, saving you from heavy, back-breaking yard work.
Our expert tree pruning gives you a safer yard, lowering the risk of damage or injury caused by tree branches. Our quality tree cutting also helps prevent insect or pest infestations from getting out of control.
Get in touch with Wolf Trees & Gardens today to get a free quote on our tree pruning services in Kogarah.
Tree removal
Tree removal is the ideal solution for many tree problems. If your trees are damaged, dying or dead, they could cause harm to people or property at any moment.
Maybe your trees are perfectly safe but they're in the wrong spot. A badly-located tree might be stopping you from using your land in the way you'd like. In that case, tree removal is the answer.
Tree removal is something you should never attempt on your own. At Wolf Trees & Gardens, we provide reliable tree removal services to Kogarah residents. We get the job done fast, safely and at a very affordable price. Get in touch now for a free quote.
Stump grinding
Do you have tree stumps in your yard? Are you stumped as to what to do with them? Wolf Trees & Gardens can help!
We provide a quality stump grinding service to remove stumps in Kogarah. Stumps often cause accidents and painful injuries. They can also become infested with termites and other pests. Getting rid of tree stumps in your yard is a very good idea.
Our qualified and fully insured staff use our special stump grinders to grind down your stumps until they're wood chips. We'll clean up the mess and leave your yard looking as good as new.
Get in touch with Wolf Trees & Gardens today to learn more about our stump grinding services in Kogarah.
Call Jonnie for a Free Quote Now!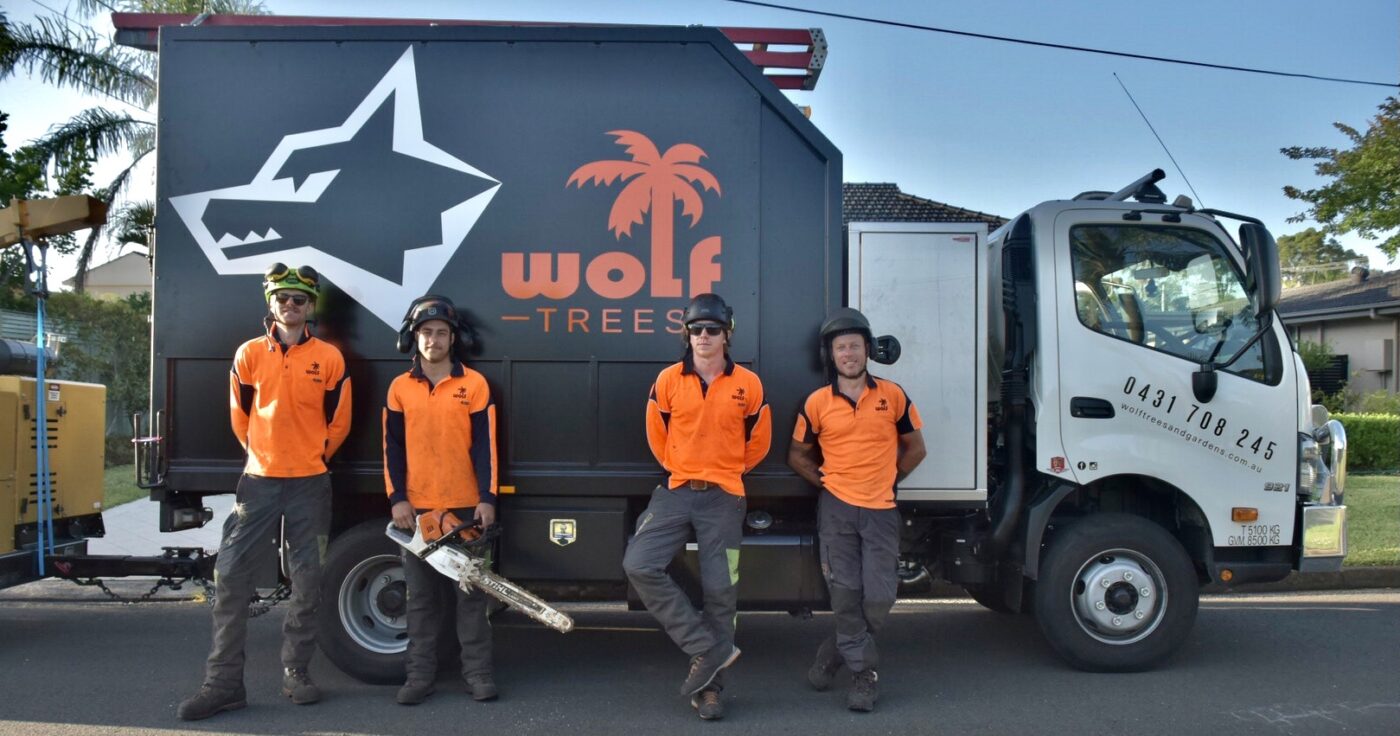 Next steps
1
Check with local council if permit is required
2
Call and ask Jonnie for a quote
3
You will receive a text message confirming a site visit to inspect
4
A formal quote to follow straight away with a copy of our qualifications and Insurances
5
Arrange a convenient time to book job in
6
You will receive text message the day before to confirming arrival time
7
Once Job is complete a thorough clean up is done, leaving the property clean
8
We will then walk you through what work has been done
9
Invoice will be sent, and payment can be made by internet transfer, credit card or cash
Client Testimonials
Call Jonnie for a Free Quote Now!