Call Jonnie today for an affordable & professional tree service
Do you need help managing the trees at your Hurstville home or property? If so, speak to me — I'm Jonnie, and I can help. I'm the proud owner of Wolf Trees & Gardens, a local business that takes care of all your tree problems. Our services are safe, affordable and high-quality.
We've been cutting and removing trees since 2011, so we really know what we're doing. Wolf Trees & Gardens can give you a free and fast quote. Turnaround on our quotes is just 2 business days for all Hurstville residents.
Our loyal customer base keeps growing because we offer unbeatable value for money. We are 100% reliable, too. Staff are qualified and fully insured and we get the job done fast and efficiently.
Our customers appreciate our respect for the environment. All green waste is recycled. Plus, we respect our customers' properties. We do a free clean-up after each and every job.
No job is too difficult for Wolf Trees & Gardens, either. We have the experience and qualifications to back this up. Whether it's complications with townhouses, access difficulties, parking issues or smaller trees, we'll know how to handle the situation.
So if you need tree removal, pruning or other tree maintenance services in Hurstville, contact Wolf Trees & Gardens today. Just reach out to me, Jonnie, and I can be at your property in 48 hours. And remember, our quotes are free!
18 meter Eucalyptus Tree gone in 9 secs
Services
Top Hurstville tree pruning, tree removal and stump grinding services at prices you can afford.
Tree Pruning
Are the trees in your Hurstville yard getting too big? Are they blocking the view, creating too much shade for other plants or shedding too much debris? If the answer is yes to any of these questions, you need qualified tree pruning services.
Wolf Trees & Gardens will ensure your trees are pruned correctly to keep them strong and healthy. We'll get rid of dead, dying and drooping branches quickly, safely and efficiently. Our tree pruning services will also help stop pest infestations in your trees.
Once your trees have been expertly pruned, your yard will be much safer and you'll get more pleasure out of your outdoor spaces.
Call the tree pruning experts at Wolf Trees & Gardens today for a free quote.
Tree removal
If you have a damaged or rotting tree in your Hurstville yard, you could be in serious danger. The tree could fall or collapse at any time. You really need to take action and contact a qualified tree removal company.
Wolf Trees & Gardens can remove trees quickly, safely and efficiently from your Hurstville property. We also get rid of trees that pose no danger but are in an inconvenient spot. Our fully insured tree removal services are very affordable, too.
Tree removal is messy work. That's why we provide a free clean-up. Not only do we remove the tree from the ground, but we remove it completely from your property.
Call Wolf Trees & Gardens today to get a free quote on your tree removal job.
Stump grinding
Stumps might seem harmless but if you like to use your Hurstville yard for playing, relaxing or entertaining, then it's better to get rid of them. Stumps take up space and they cause accidents if people trip, stumble or slip on them. Plus, insects are often drawn to stumps, and these pests can easily spread to other parts of your home.
Wolf Trees & Gardens provides a quality stump grinding service. It involves grinding the stump with a special grinder until it's reduced to small wood chips.
Our staff are qualified and fully insured and we clean up after each and every job. We'll leave your outdoor areas spotless and free of stumps.
Call today to arrange a free quote on our stump grinding services.
Call Jonnie for a Free Quote Now!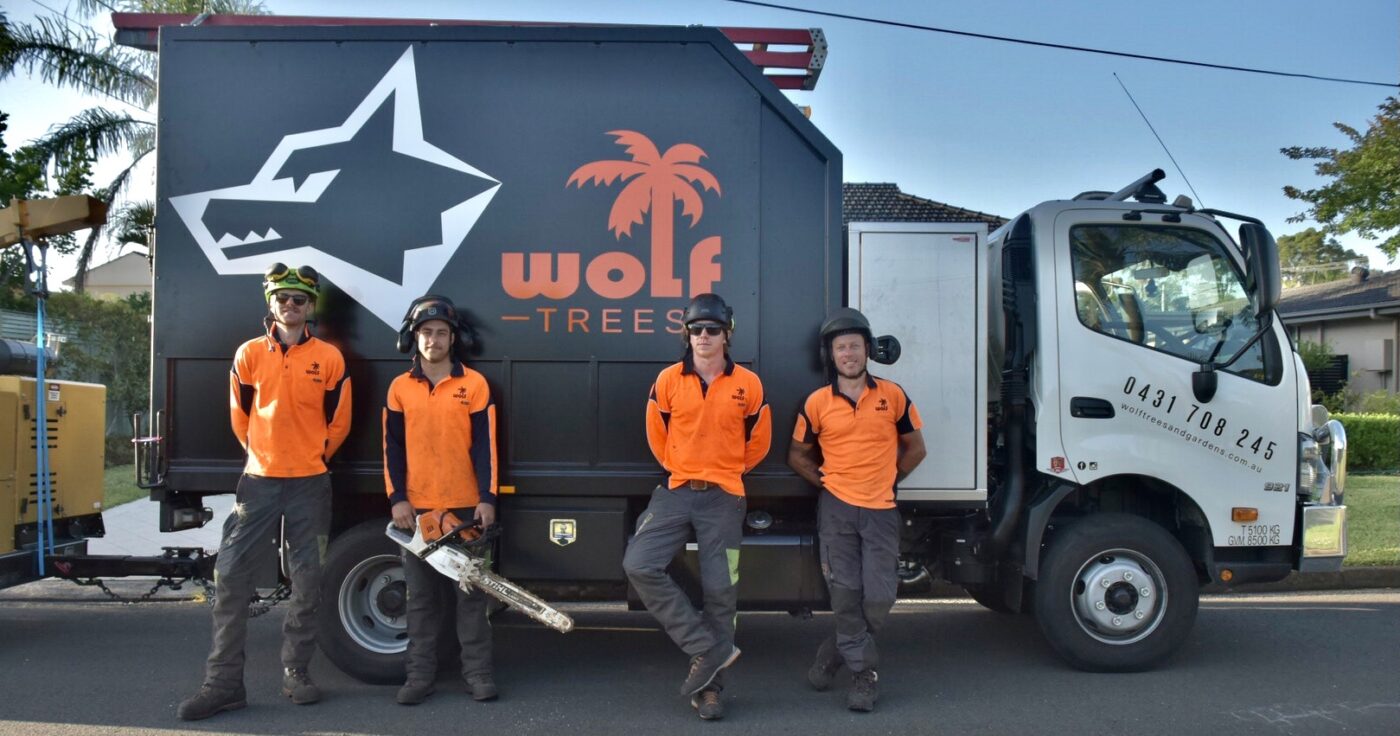 Next steps
1
Check with local council if permit is required
2
Call and ask Jonnie for a quote
3
You will receive a text message confirming a site visit to inspect
4
A formal quote to follow straight away with a copy of our qualifications and Insurances
5
Arrange a convenient time to book job in
6
You will receive text message the day before to confirming arrival time
7
Once Job is complete a thorough clean up is done, leaving the property clean
8
We will then walk you through what work has been done
9
Invoice will be sent, and payment can be made by internet transfer, credit card or cash
Client Testimonials
Call Jonnie for a Free Quote Now!