Call Jonnie today for an affordable & professional tree service
Looking for reliable and professional tree pruning and removal in Erskineville? Reach out to Wolf Trees and Gardens. Then ask for me, Jonnie.
I take pride in the work that my company has performed throughout Erskineville and Alexandria. My company has built a solid reputation in delivering reliable service at reasonable prices, giving you value for your money.
Our fully insured and qualified staff performs each job to our utmost, contracting with everyone from large firms to residences. We consider no job too difficult.
In each case, we send trained, experienced, and licensed professionals who perform to exacting standards. On each job, our goal lies in exceeding expectations from the moment that we show up on time to the end of the final and free cleanup, with all green waste recycled.
Call me, Jonnie today and schedule your fast and free quote!
Need a Tree Removal/Pruning Permit? Get a FREE Quote Now!
Inner West Council requires you to get a permit for pruning and removing trees on private land. To secure your permit, you need to submit a quote from a qualified arborist. At Wolf Trees and Gardens, we offer FREE quotes to assist with your permit applications.
For more details and to access the Inner West Council Application to Prune/Remove Trees, visit Inner West Council Application.
18 meter Eucalyptus Tree gone in 9 secs
Services
Our promise to our customers is to perform services requested as quickly, efficiently, and as safely as possible, then do a thorough cleanup.
Tree Pruning
Dead branches and dying limbs can serve as a real hazard on your property. Falling branches can injure people, damage vehicles, and harm your home or other structures. They can also serve as a perfect habitat for unwanted insects and other critters.
Our experienced staff understands how to examine a tree and safely remove the dead parts. We then will discuss the service with you to make sure it meets with your approval.
Next, we remove what all agree to cut from the tree. This will remove the threat to people and property while helping to boost the chances that the tree itself will recover.
Tree Removal
In many cases, our expert team will discover that pruning will not save the tree and that it requires removal. Other times, the property owner needs the tree gone for a variety of reasons.
Tree removal, especially in neighbourhood settings, requires precision and experience. Most trees have the potential to do significant damage if removed improperly.
Our team has years of experience, and I am personally proud of our record of safe removals.
Stump Grinding
No one ever loves a stump in their yard. For most people, they are ugly nuisances. At best they merely ruin the look of your property. At worst, they get in the way and may even serve as a hazard when cutting grass or enjoying recreational activities.
They also attract termites and other insects that can be dangerous to your property. Our termites' have a notoriously voracious appetite and can easily launch colonies from rotting stumps to your home or other structures.
When you decide that stump has got to go, call Wolf Trees and Gardens. Our professional grinding and removal service will efficiently remove the stump and give an improved look to your property.
Call Jonnie for a Free Quote Now!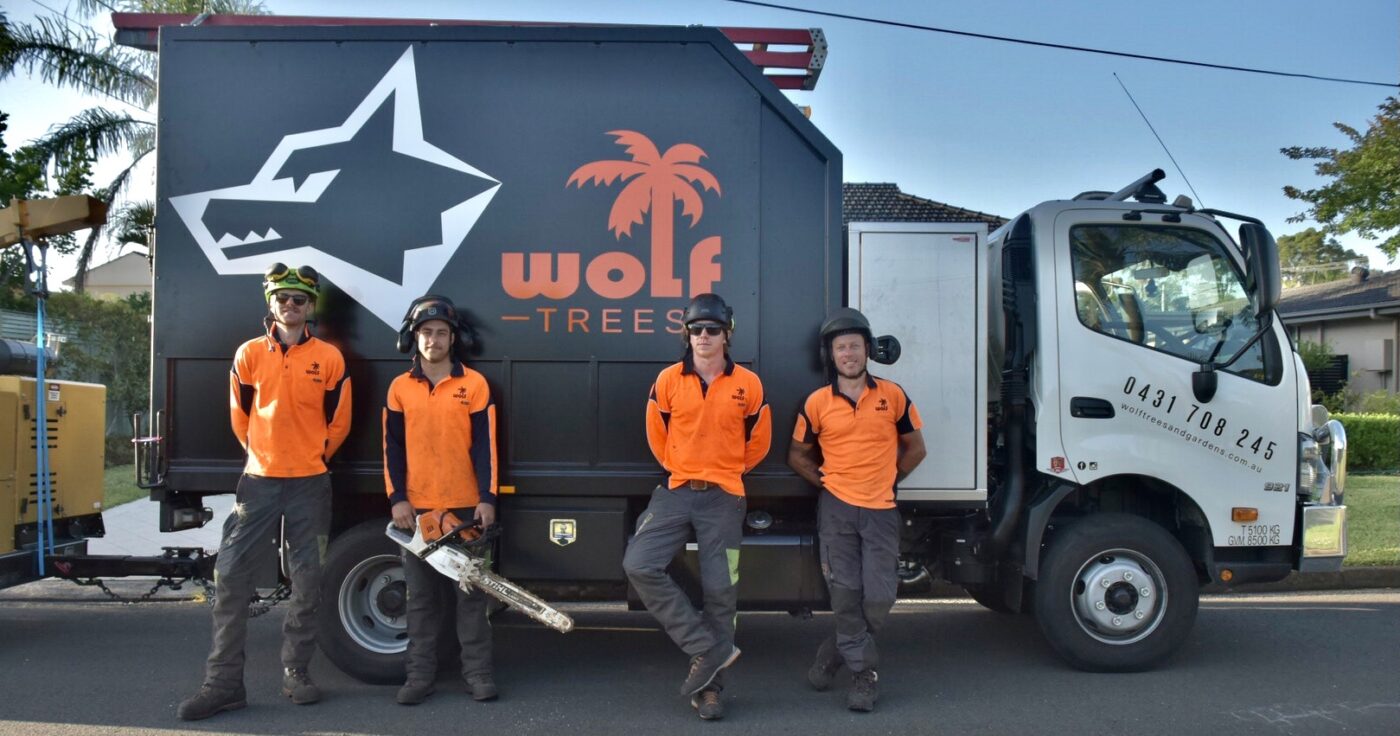 Next steps
1
Check with local council if permit is required
2
Call and ask Jonnie for a quote
3
You will receive a text message confirming a site visit to inspect
4
A formal quote to follow straight away with a copy of our qualifications and Insurances
5
Arrange a convenient time to book job in
6
You will receive text message the day before to confirming arrival time
7
Once Job is complete a thorough clean up is done, leaving the property clean
8
We will then walk you through what work has been done
9
Invoice will be sent, and payment can be made by internet transfer, credit card or cash
Client Testimonial
Terrific service, job done extremely well in a timely manner and without any fuzz,I would definitely recommend them to anybody wanting trees removal, very please indeed.
– Pablo M

When you are ready to improve your property through tree pruning, tree removal, or stump grinding and removal, call Wolf's Garden and Trees and ask for Jonnie. I will be happy to answer any questions that you have and explain our proven safe processes. I can also schedule a consultation so that we can assess your needs and work together to come up with the best options.
Call today at 0431 708 245 or use our convenient contact form for a free consultation and quote for services.
Wolf's Trees and Garden provides respected, professional, and reasonably priced tree and stump services throughout Erskineville. Come and see why our customers engage us for all of their tree and stump removal needs.
We work hard to make your property safer and more attractive.
Call Jonnie for a Free Quote Now!