Call Jonnie today for an affordable & professional tree service
Servicing Engadine, Heathcote, Woronora Heights and Waterfall.
When it comes to your yard and tree cutting or removal services, you want to have a fully insured and qualified company like Wolf Trees & Gardens on the job. My name is Jonnie, and I'm the proud owner of this local and professional tree cutting and removal business.
Since 2011, we've been providing the residents of Engadine value for their money, and we pride ourselves on our work. There is no job too difficult for us to handle, and we'll give you a fast and free quote within two business days when you contact us for your tree removal and cutting services.
Sooner or later, you may have problems with your trees. For tree removal, tree pruning, and stump grinding call Wolf Trees & Gardens. Not only do we do a high-quality job quickly and efficiently, but we also understand how important your yard is to you. We'll clean up after ourselves, so you have a beautiful yard and no mess that allows you to enjoy it right away.
We're an eco-friendly company that recycles all of our green waste as well. Since 2011, we've been giving the residents of Engadine quality services at affordable prices. We want to become the company you rely on again and again for your tree cutting and removal needs.
Contact me, Jonnie today for your fast and free quote. We want you to experience what it's like to have a company exceed your expectations, every time.
18 meter Eucalyptus Tree gone in 9 secs
Services
Tree Pruning
There are several reasons you could require tree pruning services. You could want more sunshine in your yard, or perhaps you want a better view of Engadine. If it's not cosmetic, there are several reasons you could need tree pruning services like dead, damaged, dying or infested trees that pose a danger to your friends and family.
Whatever the reason, it's a good idea to have a professional company like Wolf Trees & Gardens assist
you. We'll come to your property and assess your trees. When we're through with the assessment, we'll
give you a fast and free quote and prune your trees, so you have a safe and beautiful yard.
Tree Removal
Sometimes, it's better to remove a tree than to try and save it. Trees can suffer damage from storms or winds or get infected with diseases just like humans can. These things can damage the tree's structural integrity and make them unsafe to be around. Having a tree too close to your structures can cause damage in the long run, and they may hold up any renovations.
Don't let a structurally unsound tree stay in your yard. Give us a call at Wolf Trees & Gardens. We have the tools, knowledge and experience to assess the situation and remove your trees is a safe and efficient manner.
Stump Grinding
Stumps that are left over from a previous tree removal can pose several problems in the long run. Besides taking up valuable space in your yard, they can pose a danger to your family or damage your expensive lawn equipment. Stumps can attract insects that can spread to surrounding trees or to your home, and they can encourage new tree growth.
We are qualified stump grinders that will safely and quickly remove any stumps you have in your yard. Our knowledge and experience reduce the risk of an accident or an injury, and it helps to ensure that we complete the job to your exact standards.
Call Jonnie for a Free Quote Now!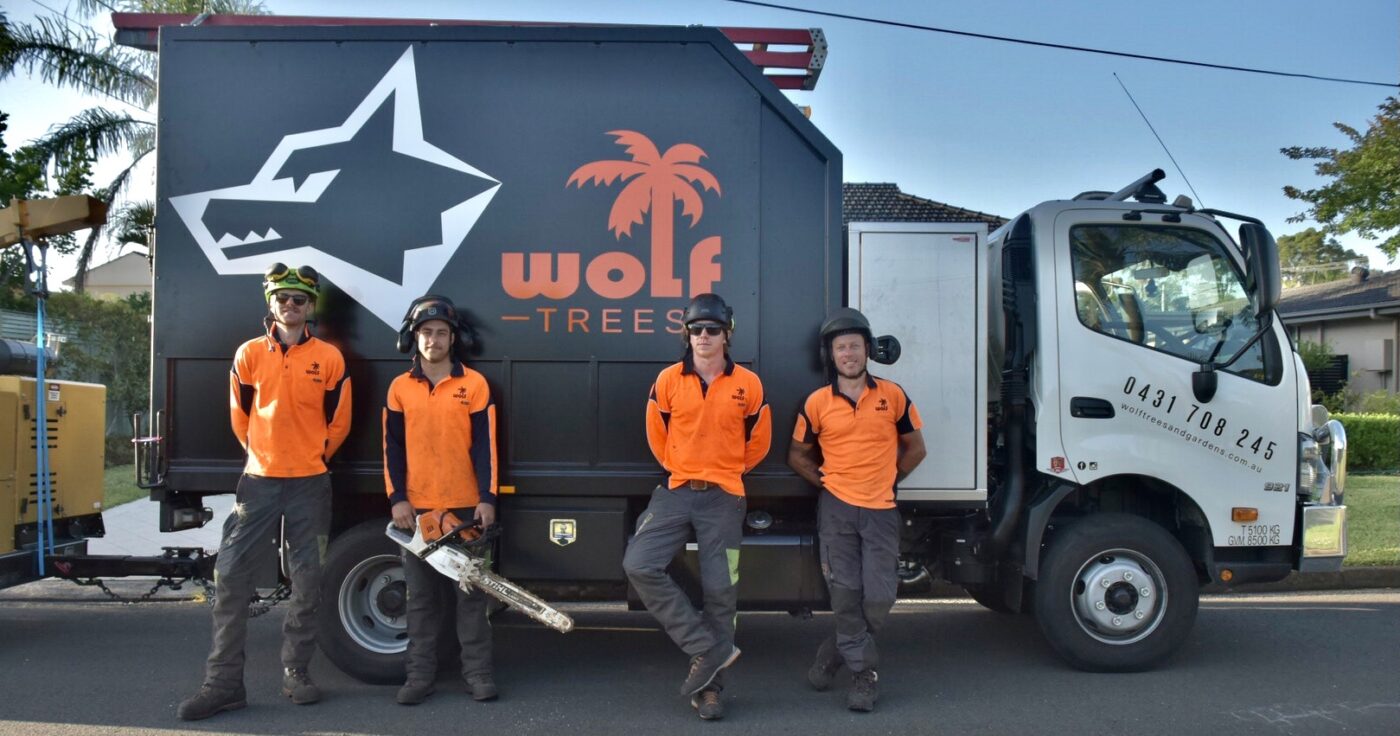 Next steps
1
Check with local council if permit is required
2
Call and ask Jonnie for a quote
3
You will receive a text message confirming a site visit to inspect
4
A formal quote to follow straight away with a copy of our qualifications and Insurances
5
Arrange a convenient time to book job in
6
You will receive text message the day before to confirming arrival time
7
Once Job is complete a thorough clean up is done, leaving the property clean
8
We will then walk you through what work has been done
9
Invoice will be sent, and payment can be made by internet transfer, credit card or cash
Client Testimonial
Very professional service, Jonnie is true to his word when it comes to completing the required work as specified, i have also found they go above and beyond. Would not hesitate to use Wolf Trees and Gardens.
Rod D
For stump removal, tree grinding or tree removal, the residents of Engadine know that they can count on me, Jonnie at Wolf Trees & Gardens.
Call Jonnie for a Free Quote Now!