Call Jonnie today for an affordable & professional tree service
Servicing Caringbah, Caringbah South, Lilli Pilli, Dolans Bay and Woolooware.
Sooner or later, just about every residence in Caringbah will need tree removal and maintenance services. Since 2011, Wolf Trees & Gardens has built a reputation with the Caringbah community by offering high-quality and affordable tree cutting and removal services. My name is Jonnie, and I'm the proud owner of Wolf Trees & Gardens.
We get a large amount of satisfaction on making our work exceed our customer's expectations. We provide completely free and fast quotes (within two business days!) to each customer who contacts us. We dedicate ourselves to each customer and every job we do, and this has allowed us to build a solid customer base who knows that they'll get value for money each time they use our fully insured and qualified services.
We recycle all of our green waste, and we provide free clean up when we complete the job so you can get back to your life and enjoy your yard quickly. At Wolf Trees & Gardens, no job is too complicated for us to handle, and we pride ourselves on providing high-quality services every time. Whether you have a townhouse with difficult access, areas with difficult parking or smaller trees, we can help.
You can count on us to give you a beautiful yard so you can enjoy the gorgeous views and relaxing atmosphere that the residents of Caringbah pride themselves on. Call today and speak to me, Jonnie. I'll come to your property within 48 hours and give you a free quote!
18 meter Eucalyptus Tree gone in 9 secs
Services
Tree Pruning
Do you have troublesome or drooping branches that are stopping you from taking full advantage of your yard? Do they obscure your beautiful view over Caringbah? If so, we can help!
We can prune the dead, drooping, or problem branches quickly and efficiently. This can make your yard safer and reduce the risk of an injury due to a falling branch. It also helps to protect your trees against insect infestations before they do so much damage that you have to remove the entire tree. Contact us today and let our professional and fully insured staff help.
Tree Removal
Have you noticed that your tree sustained damage due to storms or high winds? If they have, this can damage their structural integrity and make them unsafe. The same goes for infested, dead or dying trees.
We'll come to your home and remove any damaged, infested, dead or dying trees to make your yard safe and tidy. If your yard has too much shade, your trees are too close to your structures, or if you plan to renovate, we can remove trees to give you an open and bright area to build on.
Stump Grinding
Stump grinding can be a messy and dangerous job, and this is why you want to leave it to our fully qualified, experienced, and insured staff. At Wolf Trees & Gardens, we understand how important a neat and tidy yard is. This is why we offer stump grinding services to the residents of Caringbah.
Stumps take up space in your yard, and they're hazards because they provide something to fall into or over, and they can attract insects. We'll come to your property and remove the stump for you. Also, we'll clean up after ourselves, so you're left with a neat and flawless yard.
Call Jonnie for a Free Quote Now!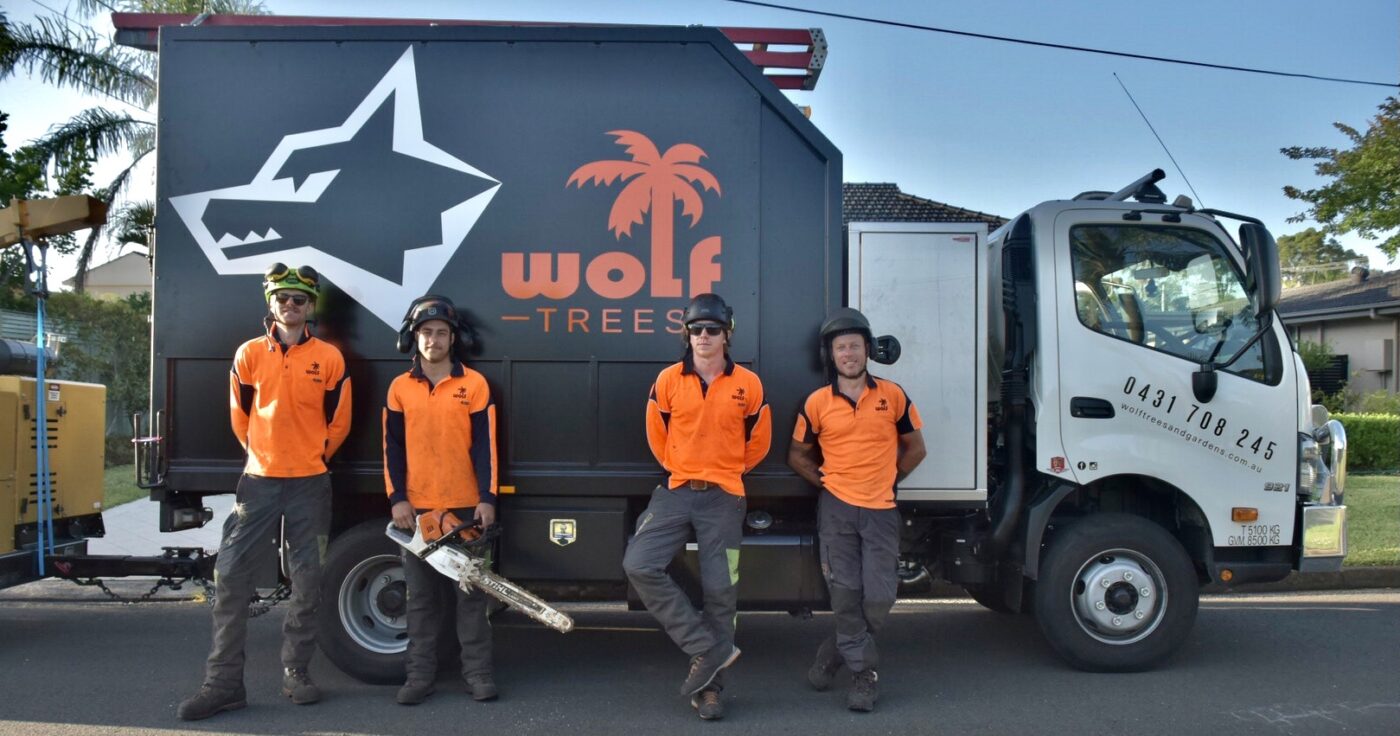 Next steps
1
Check with local council if permit is required
2
Call and ask Jonnie for a quote
3
You will receive a text message confirming a site visit to inspect
4
A formal quote to follow straight away with a copy of our qualifications and Insurances
5
Arrange a convenient time to book job in
6
You will receive text message the day before to confirming arrival time
7
Once Job is complete a thorough clean up is done, leaving the property clean
8
We will then walk you through what work has been done
9
Invoice will be sent, and payment can be made by internet transfer, credit card or cash
Client Testimonial
Found wolf to be a very friendly and professional company who quoted a price and kept to it they did an amazing job of cutting back our bushes and removing the rubbish i would thoroughly recommend this company and would use them again myself Thank you.
Paul J

We want you to have a safe and tidy yard that you're proud to show off and spend time in. Contact Jonnie today for your fast and free quote!
Call Jonnie for a Free Quote Now!