Call Jonnie today for an affordable & professional tree service
Are the trees at your Blakehurst home getting out of control? Hi, I'm Jonnie, and I can help. My local business, Wolf Trees & Gardens, can take care of all your tree problems. We do things safely, affordably and to very high standards.
Wolf Trees & Gardens has been operating since 2011. In that time, we've cut, pruned, trimmed and removed a lot of trees in and around Blakehurst.
We'll give you a free and fast quote on any tree maintenance job. In just 2 business days, you'll know how affordable our tree services really are.
Our Blakehurst customers are loyal and regular. They keep coming back to Wolf Trees & Gardens for tree maintenance and removal services because of the unbeatable quality of our work. They also know we offer great value for money.
The services at Wolf Trees & Gardens are insured and we're qualified. Our vast experience enables us to get things done with maximum efficiency.
We're also green and clean. All green waste is recycled and we do a free tidy-up after each job. Your yard will look as good as new when we drive away.
Thanks to our experience and expertise, we're able to tackle the toughest jobs. It doesn't matter what type of property, trees, parking or access you have — we can handle it. We'll find a way to make things work.
For tree pruning, removal or other tree maintenance services in Blakehurst, contact Wolf Trees & Gardens today.
Speak to me, Jonnie, and I'll be there in 48 hours. All quotes are free.
18 meter Eucalyptus Tree gone in 9 secs
Services
Looking for the best tree pruning and removal services in Blakehurst at the best prices? You're in the right spot.
Tree Pruning
Are the trees in your Blakehurst yard dropping too much debris, blocking the view or interfering with other structures? If so, you need help.
At Wolf Trees & Gardens, we provide an expert tree pruning service. We prune trees properly, getting rid of unwanted and unnecessary branches. We work quickly, safely and efficiently, making sure you and your property are not harmed.
Trees are healthier and stronger when we prune them. They become an asset to your home. We also prune in a way that helps prevent pest infestations in your trees.
For all your tree pruning needs in Blakehurst, contact the tree pruning experts at Wolf Trees & Gardens today.
Tree removal
Damaged or decaying trees can be a serious hazard. They can collapse at any moment, causing great harm to people and property.
If you have an unsafe tree, contact a qualified and insured tree removal company immediately.
At Wolf Trees & Gardens, we are experts at tree removal. We will get rid of trees from your Blakehurst yard with speed, efficiency and maximum attention to safety. Our rates are very affordable, too. We even include a free clean-up, which means we remove the tree completely from your yard.
Contact Wolf Trees & Gardens today to find out more about our quality services.
Stump grinding
Stumps are very unsightly and inconvenient. They make it more difficult to mow the lawn, and people often stumble over them. Stumps also attract unpleasant pests that feast on the rotting wood.
If you have stumps in your Blakehurst yard, you really should get rid of them. Wolf Trees & Gardens can help.
We provide a qualified and insured stump grinding service. We'll expertly grind your stumps down to small wood chips. A free clean-up is included with our very affordable stump grinding service.
Wouldn't your Blakehurst home be much better without stumps? Contact the stump grinding experts at Wolf Trees & Gardens today for a free quote. You could soon be enjoying a stump-free yard!
Call Jonnie for a Free Quote Now!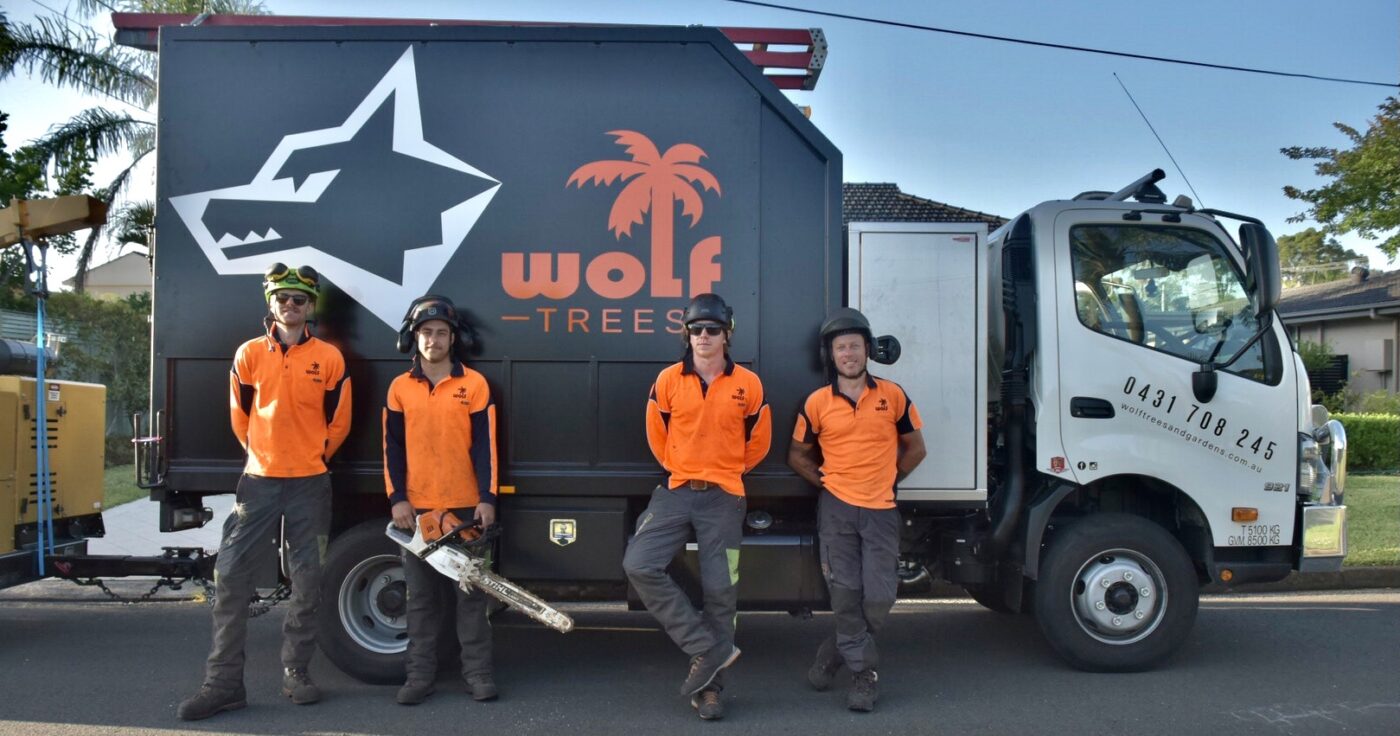 Next steps
1
Check with local council if permit is required
2
Call and ask Jonnie for a quote
3
You will receive a text message confirming a site visit to inspect
4
A formal quote to follow straight away with a copy of our qualifications and Insurances
5
Arrange a convenient time to book job in
6
You will receive text message the day before to confirming arrival time
7
Once Job is complete a thorough clean up is done, leaving the property clean
8
We will then walk you through what work has been done
9
Invoice will be sent, and payment can be made by internet transfer, credit card or cash
Client Testimonials
Call Jonnie for a Free Quote Now!